We're not going to shy away from telling you that we're only looking for the very best new startups in the region for our upcoming event in Singapore. We at Tech in Asia have been preparing our signature conference Startup Asia Singapore 2014 eagerly and it would be incomplete without the presence of Startup Arena, a competiton for startups across Asia to pitch and compete for US$10,000 in cash.
From all the submissions, we'll pick the top 10 to pitch live on-stage to a panel of judges and the audience, and thereafter be subjected to a Q&A. When you're on stage, you've got to dazzle, impress, and know your company and industry inside and out. Deadline for all submissions is on March 31, 2014.
We're looking for startups to launch or pitch their new products at Startup Arena, and we have alumni from many different kinds of industries, including e-commerce, dating, drones, bitcoin and more.
12.5 percent of past Startup Arena graduates have received funding, including PayrollHero, GushCloud, Teamie, Flocations, Phroni, Innova Technology, 8Villages and Vibease.
Phillippines' Payroll Hero managed to raise USD 1 million last year from 500 Startups, Hootsuite CEO Ryan Holmes, and LX Ventures with its employee-tracking service. Meanwhile, Japan's Phoni had raised series A funding with the amount of 70 million yen (about US$864K) from Nissay Capital, a well-known Japanese VC, with its smarter browsing experience using linkable keywords.
Past participants of Startup Arena
Let's highlight more of our graduates. We have Singapore' education platform Teamie and community work volunteer organizer StartNow; China' Zunta, a gay dating site; Indonesia' 8Villages, who helps farmers in rural villages; and Grepsr, the one and only startup from Nepal.
For last year's Startup Arena Jakarta 2013, applicants included drone company Garuda, who won the competition, Taiwanese language learning startup Linqapp, Singapore' matchmaking app Love Out Loud Asia, Singapore-based cell 3D printing company Bio3D, Indonesian bitcoin startup Artabit, Smartbike from Vietnam with its tracking device, custom shoes site Project Shoe from Indonesia, and customer loyalty startup ZAP from the Phillipines.
Arena alum, ZAP founder Dustin Cheng, shares:
The startup investor speed dating session, along with ZAP's pitching at the Startup Arena, were both very helpful for our fundraising efforts. We only started raising our round at Startup Asia Jakarta in November, and are currently in the process of finalizing with a number of investors.
We're also awaiting great news from the Bio3D team as they will be launching their bio printer soon!
On a related note, as another signature part of the Startup Asia conferences is our high quality keynote talks and panel discussions, it is also our pleasure to bring along Fan Mingwei, co-founder of Bio3D and Pulkit Jaiswal, founder of Garuda – both alumni of Startup Arena – as speakers at our upcoming Singapore conference.
You are invited!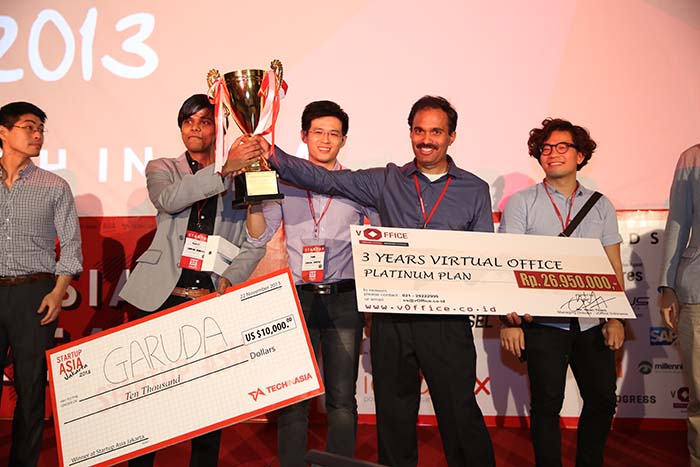 So, need a great platform to launch? Want to create brand awareness? Get media exposure? We have all that you need!
Selected startups don't have to be too worried because if you're selected to pitch on stage, you will be given the time and place to practise your presentation – with our help – because a good demo is a must. It doesn't matter if you're not yet in Singapore, our Arena training can be virtual.
Got what it takes? Apply to participate in Startup Arena Singapore 2014. Remember, deadline is on 31 March. Early stage and growth stage startups are welcome! Submit your applications here!
(Editing by Gwendolyn Regina Tan, Terence Lee, and Josh Horwitz)