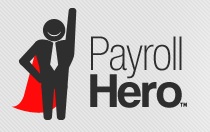 Payroll Hero, a Philippines and Canada based startup specializing in time, attendance, payroll, and scheduling enterprise software, has announced today that it has raised a USD 1M round from 500 Startups,  Hootsuite CEO Ryan Holmes, and LX Ventures.
Other participants in this investment include The Futura Corporation, 8capita Partners, Clarity CEO Dan Martell, Benjamin Joffe, MAKE Technologies founder Christian Cotichini, and other angel investors.
The startup differs from traditional payroll software in that it operates on a SaaS model and uses facial recognition and GPS location to ensure that the right employees clock in at the right time. The software facilitates transparency between employees and management through attendance analytics.
The company is founded by Michael Sephenson and Stephen Jagger. While managing their own Philippine outsourcing company, the duo set up to build their own enterprise software since existing solutions didn't meet their needs. However, they soon realized that many other business owners were facing the same dissatisfaction with available options.
"There was a really big opportunity in Southeast Asia for a time, attendance, scheduling and payroll solution that was in the cloud and built for web and mobile. We set up PayrollHero and set out to become the market leader in this space," said CEO Michael Stephenson.
PayrollHero currently has users in Philippines, Canada, United States, Cambodia, Singapore, Thailand, Indonesia, Malaysia and India. The Coffee Bean & Tea Leaf Philippines is using the software to manage about 700 employees.
According to George Kellerman, venture partner at 500 Startups, PayrollHero is already generating revenue by "making payroll sexy".
"The ability to scale PayrollHero is limited only by the number of businesses that want to improve employee attendance, scheduling, and payroll," he said.
George had recently revealed that he is an investor in Dropmysite, a Singapore-based email and website backup solution. Meanwhile, 8capita Partners, an angel firm from Singapore, had recently funded e27, a startup blog and event organizer.
More on what Payroll Hero is about:
Note: Actual stated amount was CAD 1M, equivalent to USD 1M at time of writing.