This post is a part of our coverage of Startups in Asia (Singapore), Penn Olson's first tech conference. Our full coverage of the event can be found here, for our RSS feed, click here.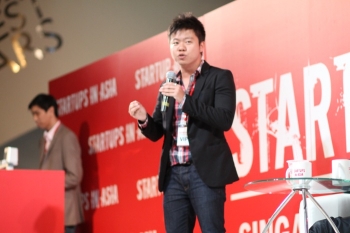 Start Now is a Singapore-based startup that hopes to simplify the volunteer-NGO relationship by providing would-be volunteers with an easy way to find service opportunities, and NGOs and other organizations a simple platform for finding volunteers. Team member Ivan Chang took stage today during the Startup Arena competition to share his team's plan with the audience (and the judges).
According to Ivan, compulsory school volunteer programs in Singapore led to a tangled mess of red tape that made volunteering complicated. Moreover, the team found that volunteers tended to stop volunteering because of a lack of feedback and recognition and feeling like they weren't really a part of anything. Start Now fixes these problems with a client-end platform that provides users all kinds of feedback, from Facebook integration to tracking systems that show them how much time they've spent volunteering.
It helps volunteers, but it's also great for businesses and NGOs because it gives them tools for managing volunteers into groups, enabling organization and scheduling smartly and quickly, without needing tons of spreadsheets. It also integrates with social media, allowing organizations to notify volunteers and increase views for their events.
The service is free for end-users (i.e. would-be volunteers), but nonprofit NGOs, schools, and corporations will all pay a scaled monthly fee for using Start Now's services to find volunteers.
Today, the startup is ready to announce that in just four days, the team signed up 42 nonprofit organizations site, bringing its end-user count across the 18,000 user mark. That's a new user every fifteen seconds.
And it's not all about Singapore. Start Now plans to expand into China later this month through a partnership with kaishi.com and the prestigious Peking University. Obviously, that version of Start Now won't include Facebook integration though, and we'll have to wait and see what the folks at Peking U have chosen as a replacement SNS (Renren would be the obvious choice).
Here's the full slideshow from Start Now's pitch: