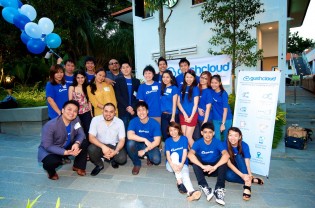 Social media marketing startup Gushcloud has just raised seed funding from Singhome Fund, we just learned from Vincent Ha, the service's CEO. Singhome Fund is backed by John Wu, the co-founder and former CTO of Alibaba Group [1]. They met early in February and finalized things late last month, making it a pretty fast deal.
Gushcloud, for those who haven't heard about it already, is a marketing solution that helps businesses build brand awareness over social media channels. The Singapore-based startup proposes to mobilize users to performs tasks desired by brands in their campaigns – so that could be sharing, tweeting, blogging, and even downloading. It's a rewards-based system where the advertising budget goes towards rewarding the users.
Vincent also tells us that the seed round will provide resources to expand into US as well as take care of operations in Asia. Having John Wu on the board has helped in many ways, especially in terms of future plans to expand to China. Gushcloud is planning to first expand to Malaysia, Indonesia, and scale up the operations by hiring more people. They have set up shop in San Fransisco and plan to get connected with the tech community there. They'll be at SXSW 2012 at the Singapore Alley too, so if you are planning to go say hi to them!
When asked Indonesian expansion, Vincent elaborates that they have already done the ground work by meeting the digital agencies and brands. They have also been working on a localized version which will be coming over the next few weeks. Regarding the possibility of online payment being a roadblock, they are planning to offer vouchers instead.
Gushcloud is targeting 500,000 users across Singapore, Malaysia, Indonesia and US and they hope to raise a Series A round by year end in the United States.
After Phroni recently getting funded for 70 million yen, Gushcloud is another alum of our StartupArena event that has raised money.
---
He was the chief software architect of Yahoo as well. You can see the rest of the team here.  ↩