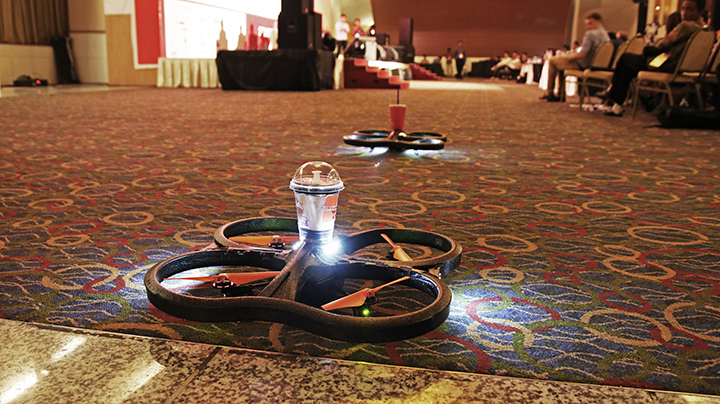 Popular culture and news media have inculcated the masses with the image of drones as weapons of war. Depending on who you ask, they're either tools against harmful terrorist elements or violators of national sovereignty.
But instead of dropping bombs, Garuda Robotics' drones will drop food, parcels, and medical supplies. The Singapore and Palo Alto based startup, founded by 20-year-old Pulkit Jaiswal, aims to provide drones-as-a-service to governments, large corporations, and first responders. Pulkit took the stage to pitch at Tech in Asia's Startup Asia Jakarta 2013 conference.
"Sure, drones have a negative connotation… but we want to slowly turn drones into tangible products that the public can gradually get used to and accept," says Pulkit.
Garuda is already in talks with potential clients to conduct trials. While a wide range of applications are possible, the company is zoning in on a few: surveillance of oil and gas infrastructure, search and rescue operations, and support for civil defense operations.
It has a full-stack solution in place involving both hardware and software. Besides building customizable drone fleets consisting of tiny nano-robots that can fit into the palm of a hand to larger quadcopters that are 15 inches wide, Garuda provides customers with a cloud app to manage their drone fleets and even a visual interface to program drone behavior.
These robots are autonomous: once the programming is done, they can be counted on to navigate the terrain, avoid collisions, and even stay out of forbidden areas.
Garuda's services are available for a six-figure price and a monthly or yearly subscription fee. The platform will also allow developers to create add-ons that extend the basic functionality supplied by the company.
Pushing the startup's technology will be a network of "forward-deployed engineers" — taking a leaf from CIA-funded big data firm Palantir Technologies — that can serve as a sounding board for potential customers and attempt to create solutions specially tailored for them.
Fronting Garuda is a solid team of drone enthusiasts and engineers that include Billy Clary, founder of GotAerial, a company that does aerial camera work using drones, and Mathur Vinjamury, a specialist in scalable cloud solutions with seven years of experience in IBM.
Born and raised in New Delhi, India, Pulkit moved to Singapore to study computer engineering as an undergraduate at the Nanyang Technological University in Singapore through a scholarship. However, he quit school two years in to work on his interests in drones and entrepreneurship. He says:
I did not find academic life fascinating…it's too structured and you've got to follow tenets or rules. University is great for someone who wants to be an engineer but not an entrepreneur.
Pulkit later transferred to Stanford for four months before starting e-commerce site Swapidy, which was profitable and generated tens of thousands in revenue a month. After committing to working full-time on the project, he became a finalist for the Thiel Fellowship program where students are given money to drop out of school and work on startup ideas.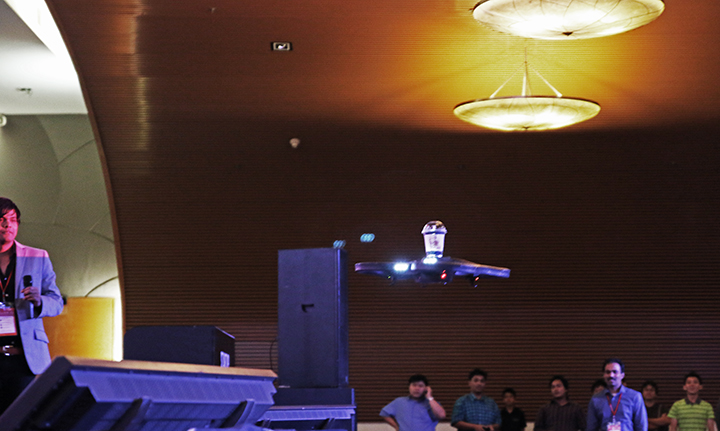 But things got derailed soon after, when a public fallout between he and his co-founder made them ineligible for the program since they applied as a team. Pulkit even got kicked out of the company.
"There were trust issues. I like helping people, but my co-founder wanted me to spend more time in the company. While it made money, it wasn't something I was passionate about, and he say through that."
The spat, however, left his co-founder's reputation tarnished, he said.
Moving on, he decided to turn his hobby — he has been building drones in his free time — into a business. While there are a number of drone companies around, they're focused on specific niches. Garuda's platform, on the other hand, can be adapted to fit any use.
Surprisingly, Pulkit sees Asia as his first market rather than the United States, which explains why he's splitting his time between Singapore and San Francisco to run his five-month old company. Bootstrapping for now, the company intends to raise $1.5 million to $2 million to expand across Asia. Although the round is closing, there's still some money left on the table.
While he finds Singapore an ideal place to work on hardware startups due to its proximity to Shenzhen, China's manufacturing hub, the main reason he has decided to move back to Singapore is because Asian countries in general are less strict about drone flight.
In the United States, while people can do what they want with drones if it's their private property, the same cannot be said for parcel delivery and logistics (see FAQ on regulations), which involve traversing over common terrain. Many drone companies have received cease and desist letters from the Federal Aviation Administration for their activities.
In Singapore and parts of China, however, drones are perfectly legal as long as it's below a certain altitude. While the US could make drones legal by 2015, Pulkit doesn't want to wait that long for his drone startup to take off. If all goes well, he intends to put his first drones to commercial flight by late 2014.
The 20-year-old believes that the world is on a cusp of a massive adoption in consumer drones, and he wants to be there to catch the wave.
Drones today are where the Internet was in '92 and computers were in late 70s. We're past the Apple II of the drone industry, and heading to the Macintosh.
The judges primarily questioned whether the drone technology and market is mature enough for the startup to succeed. Nobutake Suzuki of Global Brain and Khailee Ng of 500 Durians asked if battery technology has advanced to the stage where drones can fly on long missions.
The team responded by saying that drones can last 25 minutes per charge for now. But they expect it to go up to 45 minutes while carrying a significant payload.
Khailee then asked about the presentation deck which brought up a $89B figure for the civilian drone market in 2013. The team clarified that these are estimates of demand, not actual sales figures. Khailee then pointed out that their slides were misleading.
Finally, Saemin Ahn of Rakuten Ventures said that the startup can actually venture beyond aerial drones into land or even underwater robots.
---
This is a part of our coverage of Startup Asia Jakarta 2013, our event running on November 21 and 22. For the rest of our Startup Arena pitches, see here. You can follow along on Twitter at @TechinAsia, and on our Facebook page.
(Editing by Willis Wee)