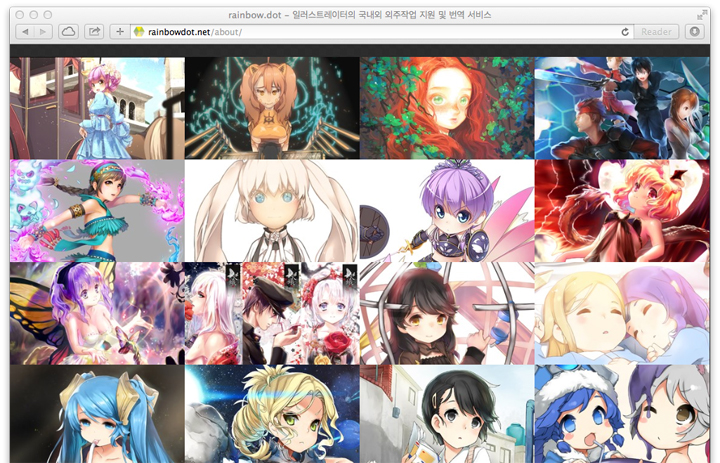 Japanese VC firm Global Brain today announced its investment in Korean startup Mbite which runs Rainbow.dot, a platform that matches illustrators to game developers and businesses. With the investment, Jiro Kumakura, partner at Global Brain, will join Mbite's board of directors.
Founded by Jung-Yong Kim in 2011, Rainbow.dot lets game developers select different genres of artwork ranging from characters, items, to backgrounds. The statement says that the platform has "automated built-in multi-language translation service" and also "effective business process management" to assist international game developers to utilize its platform better.
We have reached out to Global Brain and Mbite for more information and will update if we hear back.
Update: Rainbow.dot revealed that it currently has over 300 illustrators and 24 accumulated clients. With money in the bank, the Korean startup plans to expand its "service to China and native English markets." It also plans to bring Rainbow.dot's service to gaming-mad Japan.
Rainbow.dot makes money by doing revenue shares with illustrators. The fee, as explained by Global Brain's Nobutake Suzuki is "determined by [bids] from several illustrators" and the revenue share ratio is based on user-submitted ratings of illustrators.
Global Brain declined to disclose the investment sum.
Over the past months, Global Brain has been very active in the market making investments in Social Recruiting, Luxola, BASE, Between, Raksul, and Kamelio.
Followed by its investments in 5Rocks and Between, Rainbow.dot becomes the third Korean startup in Global Brain's portfolio.
---
9月3日と4日にスタートアップアジア@東京を開催します!割引コード < TECHINASIA >を使ってみて下さい!
Startup Asia Tokyo 2014 is on Sep 3 and 4. Unlock secret level using code < TECHINASIA >