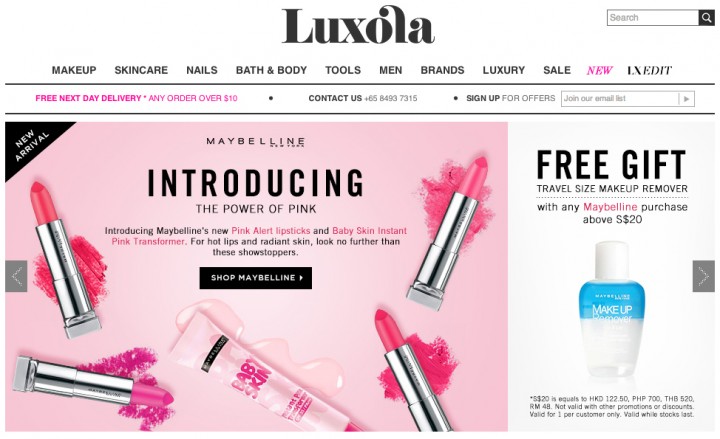 Hot on the heels of a recent US$10 million funding round led by Japanese strategic corporate investor Transcosmos, Singapore-based online beauty store Luxola today announced that it has added $3 million in additional funds from the country's own F&H Fund Management. F&H, which was co-founded by internet industry veteran John Wu, put US$2 million into this round and will bring significant industry experience to Luxola.
"We're impressed by what Luxola has achieved so far. Beauty products and services may have universal appeal across time and space, but when met with Luxola's ambition, dedication, and capability to create seamless access between Southeast Asian consumers and global authentic beauty products, we see incredible potential and possibilities ahead," said Wu, who was formerly also the CTO and angel investor of Alibaba, as well as chief architect at Yahoo.
(See: 14 popular ecommerce sites in Singapore)
Other participants involved in Luxola's oversubscribed series C round include Japanese VC firm Global Brain, India-based Tholons Capital, and US-based Queensbridge Ventures, which was started by famous US musician Nas. Global Brain invested $1 million in this round, and will bring their global exposure in ecommerce to the mix.
The new investors will help the online beauty store in its push to win the Southeast Asian market, according to Alexis Horowitz-Burdick, the CEO of Luxola. "Traction has been great so far. I can tell you we have roughly over 200,000 members and around 25,000 customers," she revealed.
(See: Luxola founder talks about her journey as an entrepreneur)
The additional capital will be used to continue setting up operations across the region and expand Luxola's brand portfolio and customer base. Luxola currently has operations in Singapore, Indonesia, and Thailand, and they ship to Hong Kong, UAE, Brunei, Malaysia, Philippines, and Australia.
The ecommerce scene in Southeast Asia is heating up in a big way, with a lot of money coming into the region through this industry. This can only be good news for consumers, who will benefit from the titanic battle between ecommerce giants that is only just beginning here.