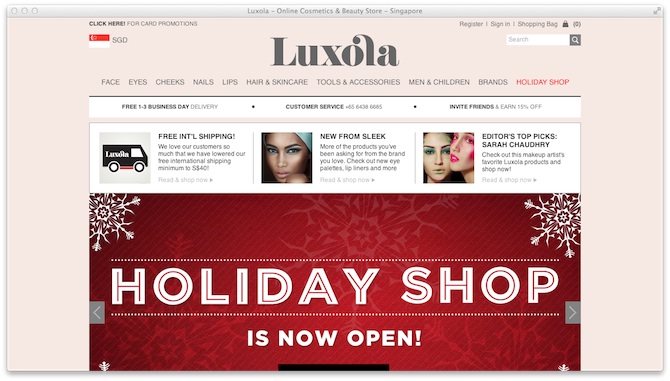 To all the ladies out there who are interested in cosmetics and skincare products, you need to know about Luxola, a Singapore-based cosmetics e-commerce startup. Back in August we reported that it had raised a total of $590,000, and it would be building its business across Southeast Asia with the funds. Recently, I had the chance to speak to Alexis Horowitz-Burdick, the founder of Luxola, to learn more about her story as an entrepreneur and get her thoughts on her e-commerce adventure.
Alexis came to Singapore from the US in 2007, working for an American consultancy startup. Her job was to work with the regional directors of many Asia-based companies, providing them with corporate management solutions and business collaboration opportunities between various companies. Being the first on-ground employee here in Singapore, she took charge of the company's business operation from end to end.
After working in the firm for some time, Alexis decided that she wanted to start something that she was truly passionate about – something that tapped into her expertise and experience. And so she jumped into her first startup venture, SweetSpot, which was a high-end group buying website. The story behind Sweet Spot was short. Six months after she founded the company, she realized that she needed to raise a huge sum of money in order to keep the company running. The business model wouldn't work with such little capital. She sold the startup to a multinational company for a figure that was equivalent to what she had invested initially.
The birth of Luxola
After working in Southeast Asia for four years, Alexis figured out that e-commerce could be the real "sweetspot". She wanted to do something that was not discount-oriented, unlike the previous venture. To begin with, she faced the problem of which e-commerce vertical to actually work on. After some market research, and due to her being a skincare-product fanatic, she realized that the demand and market space for cosmetic products was huge. From an enterprise perspective, she also felt that there was a lack of trusted e-commerce partners in the industry for the big labels to work with. That idea gave birth to Luxola in June 2011, and over a year later it received the afore-mentioned funding from WaveMaker Labs.
Alexis believed that Luxola was the right fit for the Southeast Asia market. It currently carries 48 brands and over 500 different products on its website. It's always tough for startups to convince international brands and labels to distribute products on their platform. We were curious to hear how Luxola managed to do that. Alexis tells me:
We were able to put in enough collateral, and tell them who we were and what we were going to be about. […] I think it's about having good sales people at the same time.
Another challenge that Luxola faced was the high inventory storage cost. Currently, Luxola has one warehouse in Singapore. It also delivers to Malaysia, Brunei, Thailand, Indonesia and it uses courier services from DHL and SingPost to get the job done. They are aiming to build a warehouse in each of these countries. But that would only materialize after the inventory storage system is stabilized in Singapore.
As of now, users in Singapore are able to get their purchases one day after making the order. That is really impressive considering that some of the top e-commerce blogs in the country can take two to three working days to deliver orders. Delivery is free for customers in Singapore. Overseas customers also enjoy free delivery if they order over SG$40 worth of purchases. Alexis says that the developers on the team are building a localized website for each of the four countries, and we should be able to see them by the end of this year.
For each of the products that Luxola distributes, it has to get approval from Singapore's Health Science Authority (HSA) before they ship from the website. In this way, Luxola has differentiated itself from competitors in the grey and black markets who sell counterfeit products.
Alexis also says that they are in talks with some big names in the industry, one being Maybelline, and hopefully there are more to come.
The amazing thing about their ten-person team is that each of the employees will take turns to pick up calls and answer customers' enquiries. I admire the level of dedication that each team player possess, and I'm rooting for Luxola to succeed. It will be really cool to see such a startup grow into a successful company.