Chinese web giant Tencent (HKG:0700) has just released its Q2 earnings report. We'll look at the financials later, but first the number that we all want to see – Tencent's messaging app, WeChat, is now at 438.2 million monthly active users (MAUs).
Social gaming tied to WeChat and QQ (Tencent's old MSN-style instant messaging service) generated RMB 3 billion (US$487.4 million) in revenue in Q2.
That newest WeChat MAU figure is up from 396 million in Q1; it's risen from 236 million at the same period last year. Here's a chart of every MAU figure for WeChat that the company has ever released: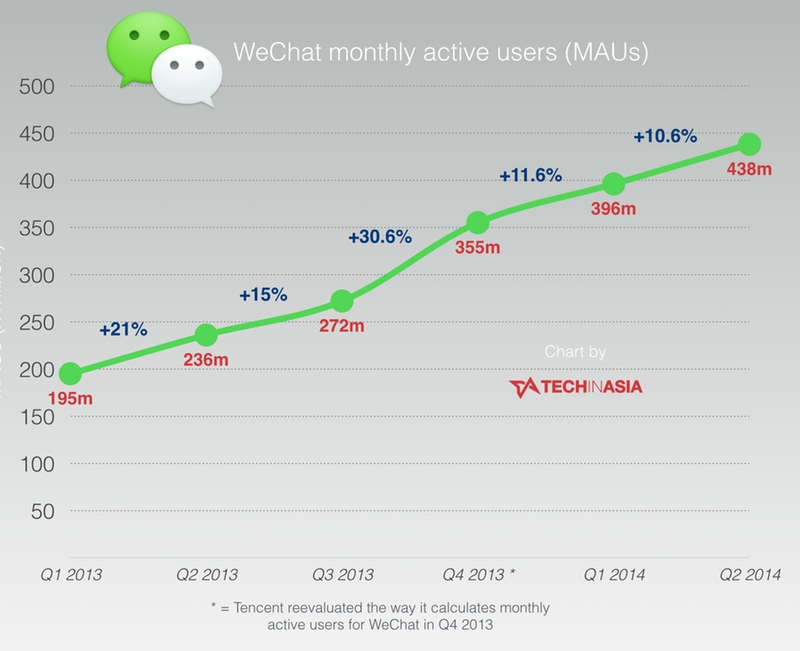 WeChat's growth is clearly slowing as it nears saturation point in mainland China.
For a sense of scale, Facebook-owned WhatsApp has 500 million MAUs. However, Tencent is still not revealing how many active users it has outside of China. The majority of WeChat's users are in mainland China, but we don't know the precise ratio.
See: Life beyond WeChat and Weibo: 15 niche social networks in China
Tencent has been pushing WeChat in numerous markets around the world in the past year, backed up by its big-name, big-bucks global ambassador, Lionel Messi. Tencent revealed that WeChat has 100 million registered users outside China precisely 12 months ago, but it's been quiet on any such numbers since then.
WeChat also has a battle on its hands at home. Authorities in China last week issued interim provisions that crack down on WeChat and other messaging apps. They place restrictions on which official/brand accounts may post politically-related content, and might lead to enforced real-name sign-up for WeChat and other such chat apps.