WeChat and Weibo are huge in China, each with more than half a billion registered users. But their respective might in messaging and microblogging hasn't stopped entrepreneurs from building niche social networks for all kinds of specific groups of people. China's netizens have, in turn, flocked to these fun and hyper-focused new apps.
They're not meant to replace WeChat or Weibo – indeed, many of these specialist social apps integrate with the country's top social networks. The idea is that they're useful as communities based around one particular area, like moms, gamers, photos, food, or fashion. They do one thing and they do it well.
Here's our list of 15 niche social networks in China: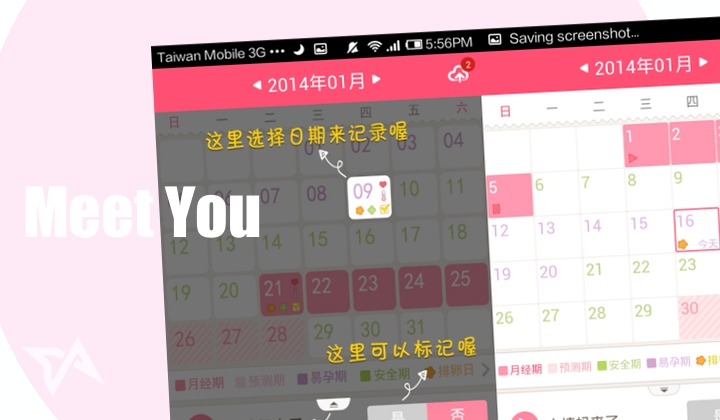 Meet You started out as a menstruation tracker app before evolving into something more social and full-featured. It's now a health and lifestyle oriented social network for women of all ages while still retaining the period-tracking calendar and a few other useful tools such as a health diary.
On the social side there are groups related to health, weight loss, clothing, fitness, relationships, and travel. The app now has two million monthly active users and 1.2 million daily active users.
The startup kicked off this year with a fresh US$15 million in funding and then in June it got another US$30 million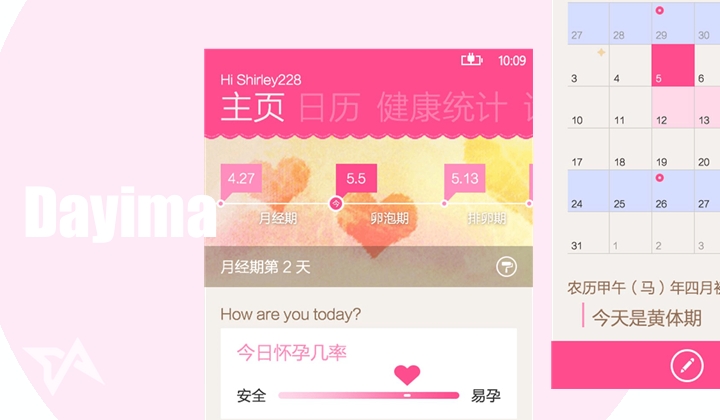 In the same mold as Meet You, Dayima is a period calendar app and women's social network. It features user forums where women discuss a variety of topics and also has tracking and metrics for other aspects of one's personal health, like weight, fitness, sleep, and mood.
In a unique move, men can use Dayima too. A dude can scan a QR code from his partner's app, and he'll be directed to a simplified version of Dayima where he can see his significant other's calendar and access a couple's chatroom.
The startup claims to have 45 million registered users, of whom 3.2 million are daily active users.
Dayima secured US$30 million in series C funding in June.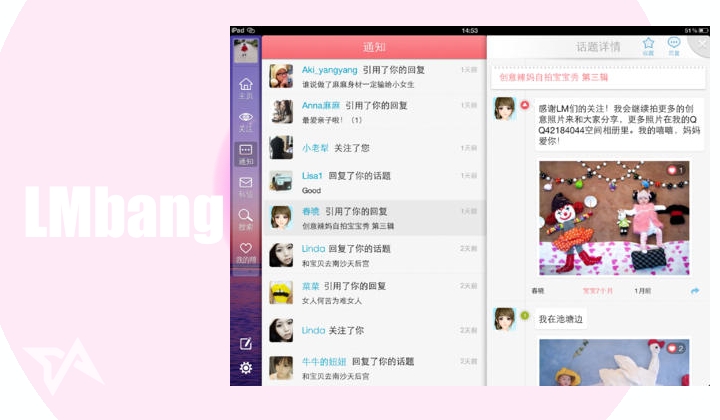 LMbang (short for la ma bang, which can be translated as "hot moms group") is yet another social network for women in China.
It's not just about diapers and baby's first steps – the idea is that it's a space for women who just happen to be moms to discuss and share anything, including fashion, healthcare, images and links, and lifestyle tips. It's like a mix of Facebook, Pinterest, a portal dedicated to moms, and a women's health website.
The LMbang app and website has 20 million registered users, of whom 2.6 million are daily active users.
At the start of July, this startup got US$20 million in series B funding.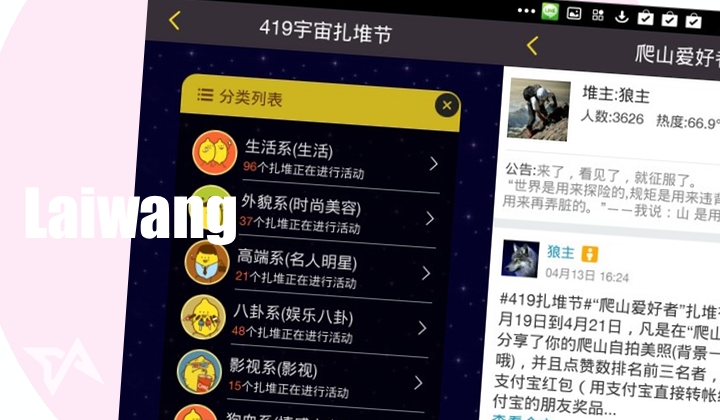 Laiwang is the only app on this list that could be a full-featured replacement for WeChat or Weibo. It's Alibaba's struggling messaging app, which was first released in July 2012 and then revamped and relaunched about a year later after getting no discernible initial traction.
However, Alibaba's social app took another change of direction in April this year when it got an update that de-emphasized messaging and put all the focus on themed groups. "Laiwang has changed its main focus from being an instant messaging app to provide more focused social networking services and enable users not to only keep in touch with the friends that we already know, but also to find more people who share the same interests with us and to interact with them," explained an Alibaba representative to Tech in Asia.
Now it's a niche, community-based social network that could be used alongside WeChat and/or Weibo – not least because very few of your friends are using Laiwang, which makes it tough to use purely for messaging. The ecommerce titan hasn't revealed user numbers for Laiwang.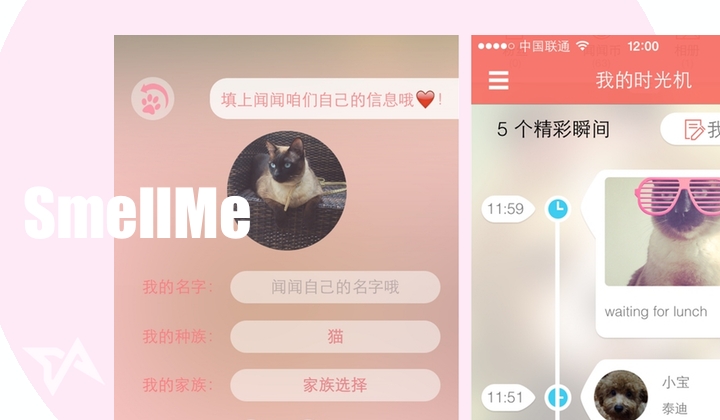 About 33 million households in China have a cat or a dog. The country's pet owners now even have their own social networking app.
In the app, you create a profile for your pet – not for you as a human. Next you can snap photos – and add silly accessories – or film videos of your pet. Users can additionally browse people by interests, type of pets, or even find fellow pet owners nearby. There's also Q&A forums, users groups based around cities or particular breeds of cats or dogs, fun videos to watch, and a location-based directory of pet-related stores and businesses.
SmellMe is still at an early stage, with 500,000 registered users in May. It has secured $1.6 million in pre-series A funding.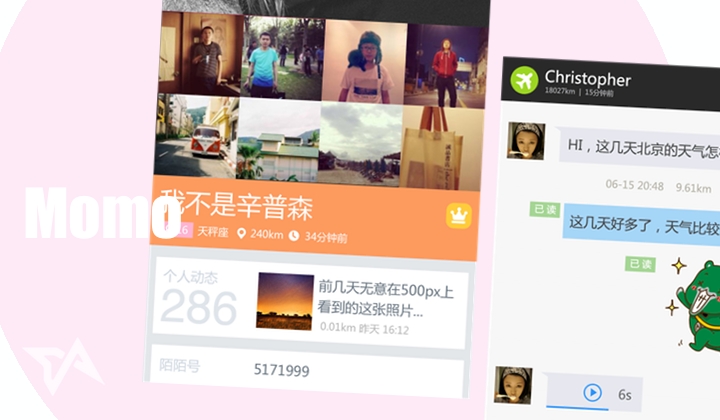 Momo is the largest of these niche social networks with over 100 million registered users, of whom 52 million are monthly active users. After first gaining traction in early 2012, the flirting app hit 10 million registered users in August of that year. A few months after, Momo got US$40 million in funding, with ecommerce titan Alibaba rumored to be the main benefactor.
But Momo is about more than just chatting and hook-ups. It evolved to include theme-based interest groups and added in Foursquare-style check-ins in 2013. That makes the app a lot more social – and retains users for longer after the initial curiosity of simply testing out a dating app.
The flirty app also made a move into social gaming in order to diversify its appeal. There are now several Momo-branded casual games that integrate with the social network part of the app – just as Facebook did first and WeChat did more recently. The startup's third game pulled in 1.4 million users and RMB 12 million (about US$ 1.9 million) in revenue in the first month after its release.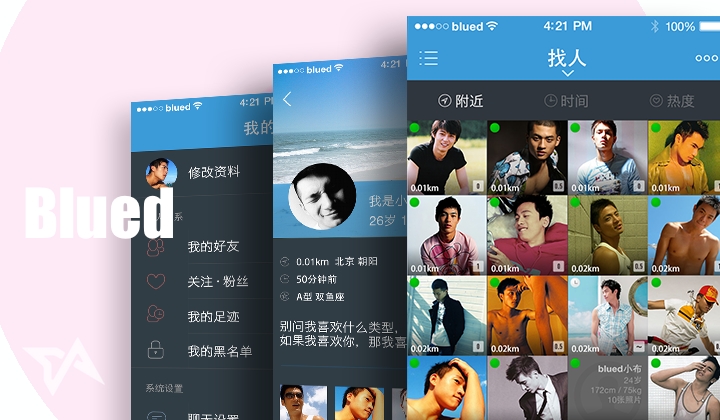 Blued, a Grindr-style gay chat and hook-up app for Chinese guys, is the largest of its kind in the country. The flirty app is augmented and made more social by a timeline feature not unlike Facebook's or WeChat Moments.
Gang Le, the founder of Blued, believes that China has as many as 70 million gay people, meaning the app has the potential for strong growth. Judging by the success in China of Momo among straight people, it's clearly a genre of app that's proving popular right now – and one ripe for diversification for monetization.
Blued got about RMB 10 million (US$1.6 million) in funding from undisclosed investors in February this year.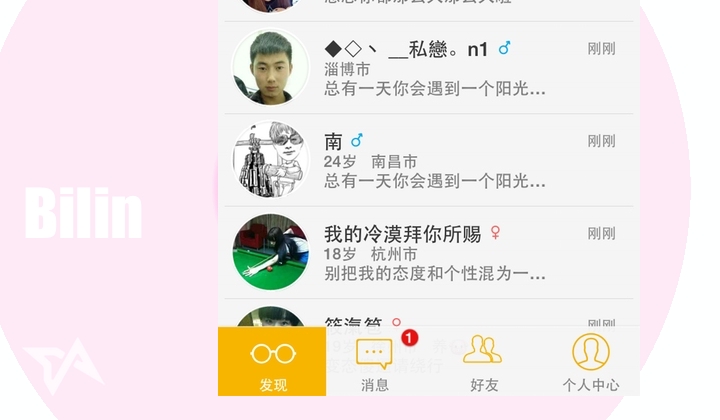 Bilin is the oddest dating app we've ever seen in China – and that's saying something. How does it work? It's a bit like Momo, but instead of taking part in a text chat, Bilin lets you make online calls.
You can filter the app's users by gender in your area, and then browse their profiles. But you can't just call someone out of the blue – first you have to send a written request which allows you to call that person, if they accept, for a 24-hour period. There's also a way to block people.
If you really like talking with people, this is a fun social network as much as a dating app.
The startup secured $15 million in series A funding in June.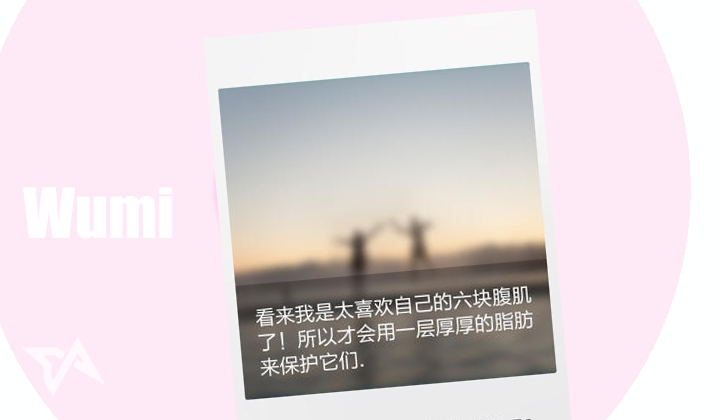 This is China's top Secret-style app. Wumi started out as a clear rip-off of the US-based confessional app, but in May it relaunched with its new name (it used to be called "secret" in Chinese) and a less derivative UI.
The way that Wumi has tidied up its act signals that it's serious about being China's top anonymous sharing app amidst a sea of Secret and Whisper clones. It's not known how many users it has.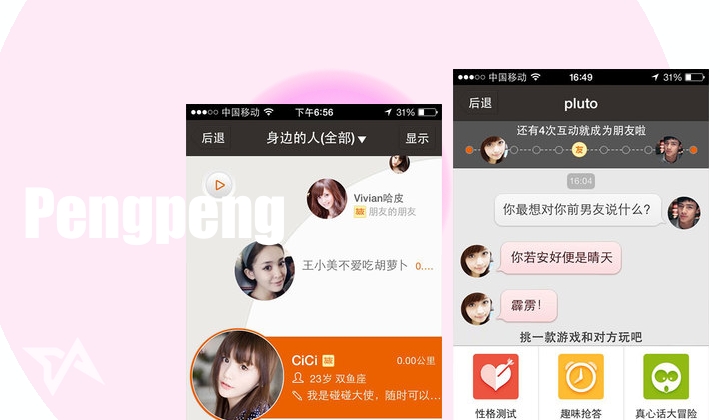 Pengpeng – an onomatopoeic name that's a bit like pew pew – is China's weirdest new social network. It's a mobile-only social gaming app that also incorporates dating. The idea is that the games serve as an ice breaker from which new relationships can emerge. Among its many games are quizzes and personality tests – the results of those form a big part of the big data sorcery that goes into the dating and matching element of the app.
Most of Pengpeng's games are developed in-house, but it has just opened up an API to other developers.
This startup claims to have 300,000 daily active users just two months after its launch. It's run by the former Zynga China boss who envisions it as a much cooler place than WeChat or Weibo for China's teens and 20-somethings to hang out.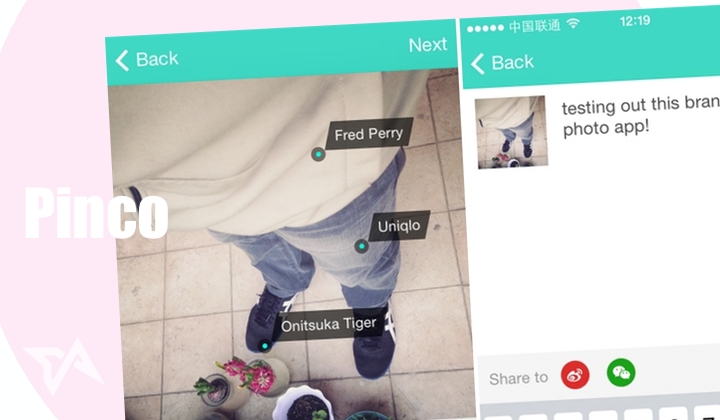 Pinco is basically a photo app and social circle for selfies and displaying the stuff you own. It's like Instagram, but it involves prerequisite showing off. You take a photo, add filters, and then tag the designer brands around you – your MacBook, your Starbucks coffee, your Calvin Klein T-shirt, your Bose speakers, whatever you've got.
The tagged photos that users create can be shared to Sina Weibo or WeChat. This is one for followers of fashion – and now you won't need to ask your buddy "What are you wearing?" in the comments.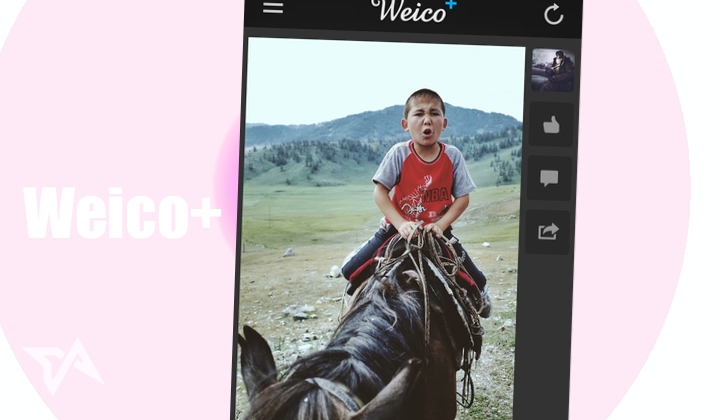 This isn't the biggest of China's many photo-sharing apps, but it's the one with the best photos and seemingly the highest proportion of real photographers using it. It doesn't look as minimal or funky as VSCOcam, but it has the same emphasis on originality and quality photos.
Weico+ is made by the same startup team that created Pinco (above) and the nice third-party Weibo app called (rather confusingly) Weico.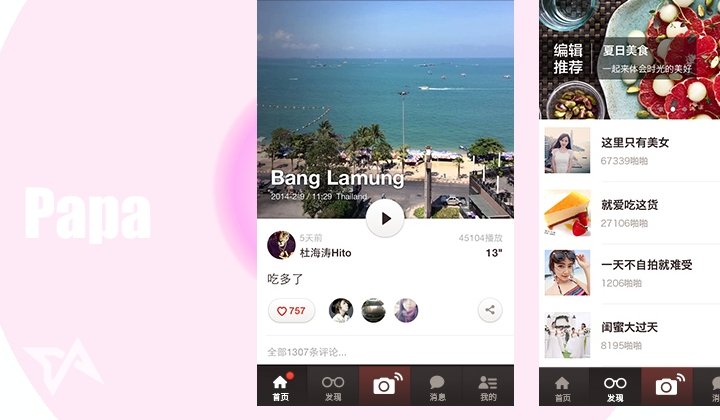 This odd photo app first appeared in late 2012 with a feature that initially looked like a terrible gimmick – users can attach a voice message to each photo. But it turned out that people like the idea, and it grew into one of China's biggest social photo apps (only Baidu's PhotoWonder seems to be more popular).
Papa now has over 20 million users.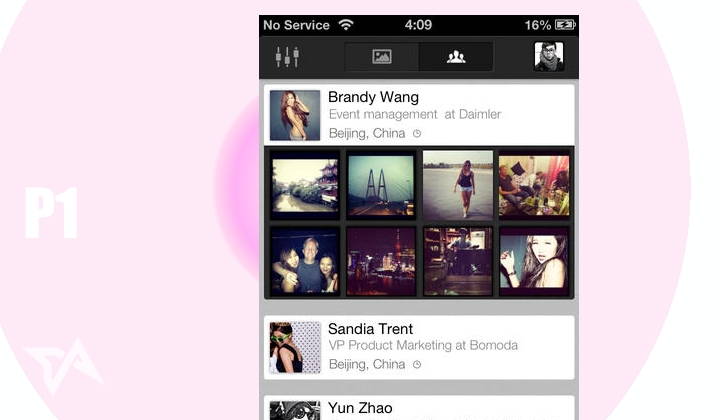 P1 started out in 2007 as an invite-only social network for people with a taste for the finer things in life. It used to only allows in folks who made a good salary and who knew another member, but the startup dropped that approach last year when it belatedly ditched the web app in order to focus on its mobile apps.
The app's wealthy demographic is a goldmine for luxury brands to advertise, coordinate offline events, and conduct market surveys, all of which are revenue streams for P1. It has worked with brands like Chanel, Pernod Ricard, Dior, Adidas, Lamborghini, and BMW.
The VIP club-esque P1 has three million registered users.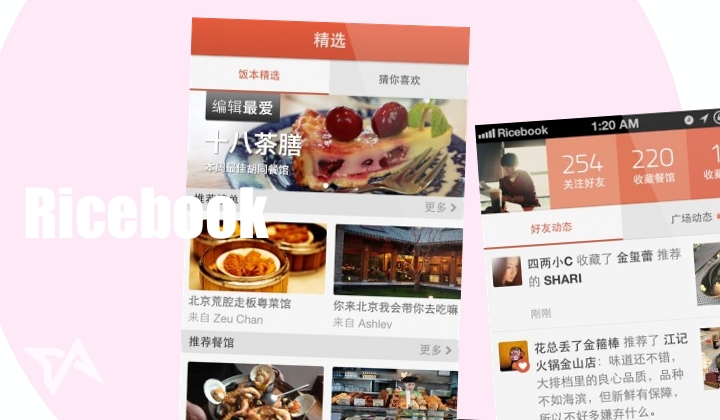 We can't have a list of this nature without a foodie app. Ricebook is a social food app that helps you take great photos of your food and then share them with buddies over social networks like Sina Weibo and WeChat.
When you're looking for a place to eat, the listings and abundant photos are useful. However, the app is up against a lot of Chinese services that do listings and reviews, such as Baidu Maps and Dianping, which is like China's answer to Yelp. Ricebook is more social and its app looks great, but it's competing in a busy and tough sector.
Ricebook got US$7 million in series B funding in April. The app had only 200,000 users at the mid-point of last year.