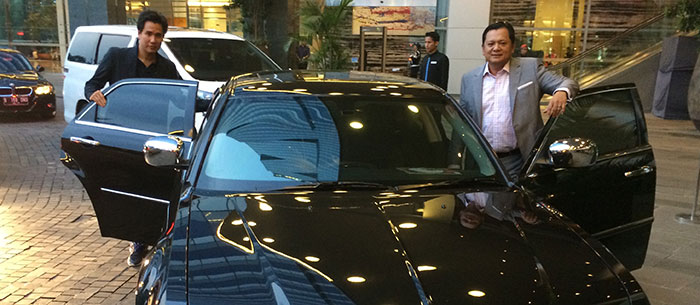 (Updated on September 2: Detik reports that the Jakarta government has requested the ICT ministry to block Uber's app this week. Although Uber has said that they are open to meet with the government, the report implies that both parties have yet to meet. An Uber representative says that they don't want to comment "on speculation".)
Premium taxi service Uber recently held its grand launch party in Jakarta. But it seems the joyous mood didn't last long as the Jakarta government has plans to ban Uber's service in the city because it doesn't have a taxi permit, Kompas reports today.
Jakarta Transportation Agency head Muhammad Akbar was quoted as saying that the ban, if it goes through, would include Uber's website and its car rental app. Akbar categorizes Uber as a mass public transportation service which can directly affect the well-being of other licensed public transport operators.
Akbar says the agency has invited Uber to discuss the permit issue, but the latter did not heed the invite. If Uber does obey government regulations, then all its cars must go through the vehicle fit test and use yellow plates to signify that it is a taxi service, as opposed to its current civilian black plates.
Uber operates in Jakarta by partnering with licensed rental car services. But according to Indonesian law, any private car service that counts its tariffs using meters is considered public transportation. And the city government has the authority to regulate taxi operations.
Mike Brown, Uber's regional general manager, has responded to Tech in Asia's inquiry:
Uber's technology connects riders to the most affordable, safe and reliable ride. Our partners are all licensed, authorized transport companies, and we are fully compliant with the laws of Indonesia. […] We look forward to having constructive discussions with government and non-government stakeholders about how our technology adds value to Indonesian consumers, drivers, and communities.
This is not the first time Uber has gotten itself into trouble with local laws. Uber has faced some court time in India, Australia, Germany, and the United States.
See: Why Uber will fail in Jakarta, and why it won't
(Source: Kompas)