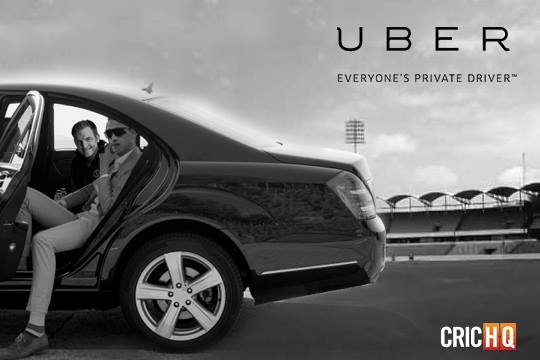 Radio taxi services in India, chafing at the rapidly growing popularity of Uber since its entry into the country last year, have thrown a spanner in its works. They have written a letter to the Reserve Bank of India (RBI) complaining that the Uber app's credit card transactions violate the country's foreign exchange regulations.
"Collection of fares by Uber on behalf of a taxi driver in India should qualify as a capital account transaction under FEMA (Foreign Exchange Maintenance Act) and such a transaction is not specifically permitted under the regulations," says a letter to the RBI from the Association of Radio Taxis, reports The Economic Times. The association includes Meru Cab, Mega Cab, and Easy Cabs.
The letter says the American company collects the fare from a passenger's credit card, transmits it to Netherlands-based Uber BV in foreign currency, then sends 80 percent of it back to the driver after deducting its commission. The association says that Indian law only permits Uber to collect the commission and not the fare in foreign currency. And that it also violates an RBI rule mandating a two-stage authentication for any credit card transaction using an international payment gateway. The RBI has yet to react to the complaint.
Uber has faced similar regulatory hurdles thrown its way from competitors in other countries as it rolls out its services around the world. Taxi operators in London have complained that its app contravenes requirements for taxi meters, because it automatically calculates the fare based on GPS data. In Taipei, taxi drivers held up traffic in a demonstration against Uber. And in South Korea, Seoul is reported to be planning a complete ban on Uber to protect local taxi services.
Taxi users in India are often frustrated by the poor quality of services, with cabs not showing up in peak hours after a booking is confirmed. Uber's tech-based approach, which automatically detects a customer's location and sends the nearest available Uber cab, usually within minutes, has been a refreshing change, forcing other operators to either revamp their services or to try to drive Uber out of the country. They appear to have chosen the latter path.
Tech in Asia has reached out to Uber for its comment on this, and is awaiting a reply.
See: Uber just got cheaper in India. Watch out Ola, Meru, and TaxiForSure
(Source: The Economic Times)