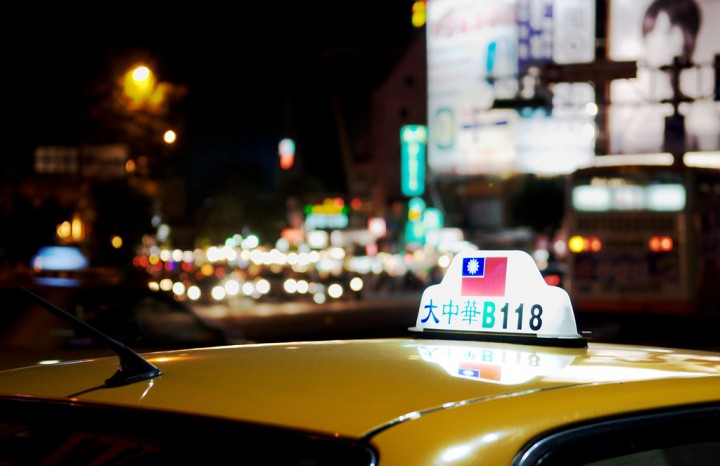 Uber's expansion through Asia has been less chaos-filled than its trek across the US, but yesterday the company got its first taste of pushback on the continent.
Early in the afternoon, taxi drivers in Taipei deliberately held up traffic Renai Road in downtown Taipei as part of a three-hour long demonstration against Uber. According to Taiwan's the Liberty Times, local taxi unions claim that more than 1,200 drivers participated in the traffic jam, while hundreds of drivers surrounded the compounds of the city's Ministry of Transportation and Communications holding placards and in some cases, burning their licenses as a form of protest. 200 policemen were deployed to monitor the demonstrations for safety.
It's worth noting that these protests weren't solely centered around Uber. Local tech blog Inside reports that the taxi unions issued four demands towards the ministry:
Expedite the installation of new meters to properly account for changes in freeway toll collection.
Forbid unlicensed (baipai) vehicles from stealing business from taxis and commit to ban on companies that provide illegal cab services (this is where Uber comes in, of course).
Allow drivers to be employed by multiple taxi firms simultaneously
Raise the mandatory retirement age for cab drivers to 70 years old.
Taxi drivers in Taiwan are known to protest frequently, but this marks the first large-scale (if the union's 1,200 vehicle figure can be trusted) demonstration that openly points fingers at Uber.
Taxi unions publicly aired their grievances towards Uber last week, accusing the company of providing unlicensed cab services. The Ministry of Transportation and Communications responded noting that as long as Uber remains open about its pricing, doesn't operate on set times or set routes, and maintains proper licensing for its vehicles and drivers, it can't be considered illegal. The staged traffic jam marks unions' reaction to the city's seemingly lasseiz-faire stance on the controversial company.
When asked about the protests, Uber Taipei gave the following English-language statement to Tech in Asia:
Since our arrival in Taipei, Uber has been met with great interest and support from riders, driver-partners and governing bodies. As a technology platform that helps connect riders with a safe and high quality ride, we partner exclusively with licensed rental car companies to provide this exciting new choice in transportation to Taipei residents. Around the world in 140 cities, people are embracing Uber as a convenient, safe and comfortable way to travel from place to place. As one of the most admired high tech leaders in the world, Taiwan must live up to that status through embracing the use of technology and business innovation.
Is Uber affecting business for Taipei's taxi drivers? Uber seldom releases city-specific figures revealing revenues or completed rides, so it's not yet possible to assess the company's traction in Taiwan. In this Taipei resident's anecdotal experience, however, Uber has yet to reach the stage of adoption it's at in cities like San Francisco or New York City. Local media outlets have reported on the company with some frequency, mostly focusing on its novelty. But consumer awareness remains low, and opening the app at any given moment usually only shows one or two vehicles on the map.
Moreover, Uber's potential value as a utility in Taipei doesn't measure up to its value in many US cities. As of 2011, Taipei had 30,000 licensed cabs driving around a city of 2.6 million people, while the equally populous Chicago had just over 6,000. Hailing down a yellow cab is jaw-droppingly easy. As a result, Uber's operations in Taiwan are likely just one obstacle among many that prevent cab drivers from making a decent living, rather than a threat to the island's entire taxi industry.
Uber Taipei tells Tech in Asia that following media coverage of the taxi union's protests, registrations on the app have surged 400 percent over the past week – proving once again that there's no such thing as bad publicity.
Yesterday's traffic congestion marks the first protest agains Uber in an east Asian metropolis. Earlier this year the Philippine state transport bureau accused Uber of operating an illegal taxi dispatch service, but hasn't yet followed through in any noticeable manner. Seoul authorities made similar accusations last August but haven't cracked down on the company either.
Despite the growing tensions in Taiwan, Uber has plans to expand on the island. It's currently looking for managers to oversee operations in Taichung and Kaohsiung, along with 9 mid-tier cities in mainland China.
Editing by Steven Millward; top image via Flickr user koadmunkee