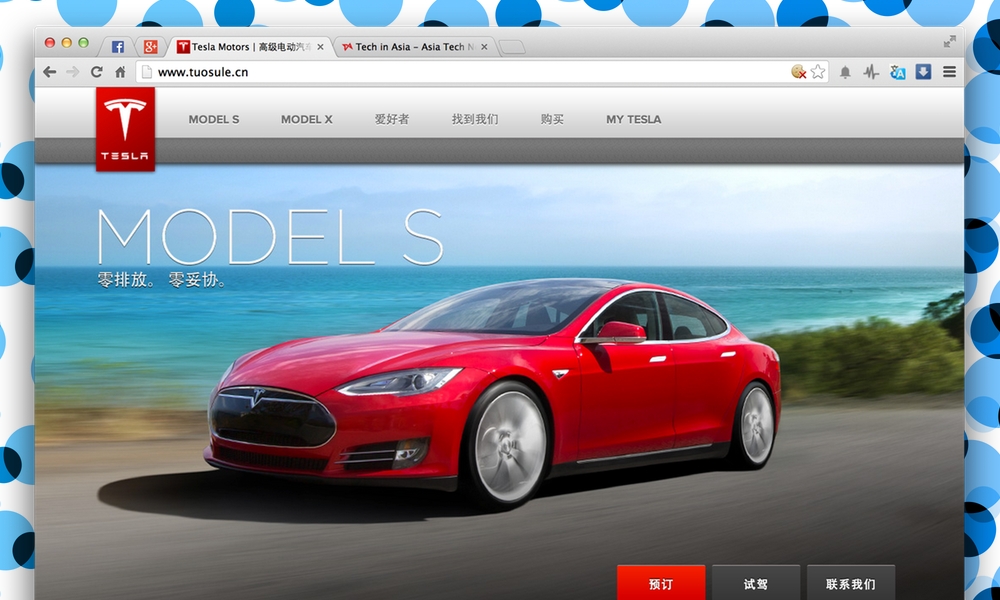 Exactly seven months after first taking pre-orders from hopeful Chinese customers, Tesla (NASDAQ:TSLA) is starting sales and shipments in China today.
Tesla founder and CEO Elon Musk is in China for the launch. Speaking yesterday at an event in Beijing's Geekpark, Musk said the fledgling automaker will "be establishing local manufacturing in China" at some point "in the next three or four years," reports Bloomberg.
Manufacturing the cars within mainland China will allow Tesla to avoid the 25 percent import duties that it currently faces. But local car assembly by law necessitates a Chinese joint-venture partner – something Mercedes and BMW already do in China.
When @elonmusk said he's a harsh grader and wld only give @TeslaMotors a 80/100 the crowd applauded. #neverstop pic.twitter.com/wDcotWTKca

— Rui Ma (@ruima) April 21, 2014
Anger over delayed deliveries
Speaking in Beijing, Musk reconfirmed that Tesla is set to build a big network of battery-charging stations in China. The initial focus is to serve car owners traveling between major cities, such as Beijing and Shanghai.
(See: 8 tech trends to watch in China for 2014)
However, there's a cloud hanging over Tesla's China launch today. The Wall Street Journal writes that some Chinese Tesla customers are facing lengthy delays for their pre-ordered vehicles. Tesla spokesman Simon Sproule said the company wouldn't ship to buyers outside of Beijing and Shanghai until June because of a lack of service centers and charging points.
The Model S starts at RMB 734,000 (US$119,000) in China. It's pricey compared to the car's US price-tag ($71,000), but it's less hefty than many expected. That's because Tesla decided at the start of the year to sell in China at its standard price plus the local taxes and import duties, foregoing the weighty premium price-hike that many luxury automakers charge in the Chinese market.
Tesla buyers in Beijing will not be eligible for government-sponsored subsidies on non-polluting vehicles – amounting to RMB 108,000 (about $17,000) – because the offer is limited to domestically produced cars.