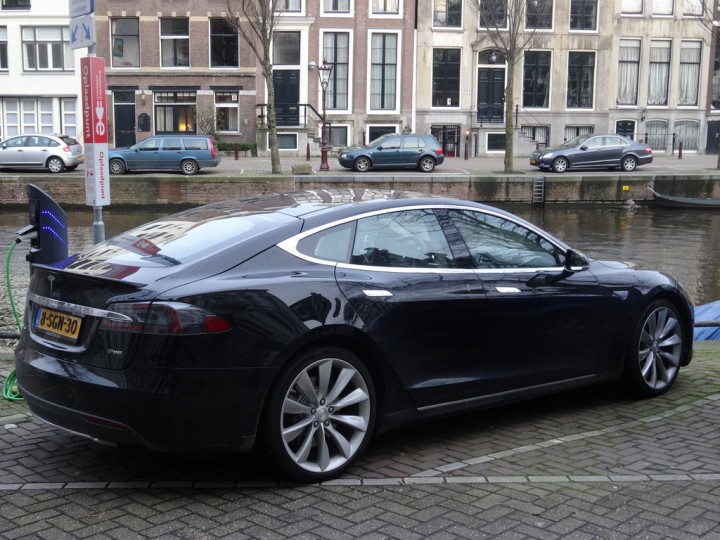 Beijing is set to lay out its annual new vehicle allotments after Chinese New Year, and just as Chinese citizens head home for the holidays, the capital has announced its policy for issuing green-energy vehicle plates.
According to ChinaNews, the Beijing municipal government will issue license plates for a total of 20,000 electric vehicles, half of which will be available as consumer vehicles.
In addition, for consumers who opt to purchase electric vehicles, the government will grant subsidies of up to RMB 108,000 (about $17,000) per vehicle. These subsidies, however, are only available for vehicles produced domestically, which therefore excludes Tesla's Model S.
Taking the wheels for a spin
In order to qualify for a car purchase in Beijing, residents must apply to participate in a bi-monthly lottery in hopes of obtaining a license plate. The municipal government implemented the policy in 2011 in an effort to reduce pollution and traffic congestion.
According to the government notice that ChinaNews cites, the lottery for electric vehicles will be separate from that of regular vehicles. Consumers can apply to participate in one lottery but not both.
Meanwhile, the government has stated that 10,000 license plates for consumer-unit electric vehicles will be issued throughout the course of the year. If the number of applicants for electric vehicle license plates exceeds the bi-monthly allotment, then the lottery will carry out as usual. If the number of applicants falls short of the bi-monthly allotment of EV license plates, then all applicants will receive one.
After applicants obtain their license plates, they qualify for subsidies on certain electric vehicles produced by domestic companies. Customers who opt for vehicles with a battery capacity of roughly 150 to 250 km per charge will receive a subsidy of RMB 90,000 (about $15,000) while vehicles with battery capacities exceeding 250km per charge will receive subsidies of RMB 108,000 (about $17,000).
Tesla on new turf
The Chinese government actively encouraged production and innovation in the electric vehicle industry. This has led observers to keep an eye on how the nation reacts to foreign competition that seeks to penetrate the Chinese market – specifically Tesla Motors, the high-profile Palo Alto based founded by Elon Musk.
Beijing hasn't yet revealed which domestic EVs will qualify for the subsidies. At the moment, the Chinese electric cars that have received most media attention have retailed for considerably less than the price of the Model S in China. In October 2011, domestic EV maker BYD unveiled the five-passenger e6 in Shenzhen for the sticker price of RMB 369,800 (about $56,900), which was lowered to RMB 249,800 (about $38,430) with the help of the government's subsidy. That company has positioned itself as a mid-tier brand though, while Tesla aspires to reach high-end customers.
Tesla made headlines last week when the company announced that its Model S vehicle, set to reach China in March, would retail for the sticker price of RMB 734,000 (about $120,00), a figure which includes no country-specific "luxury" markup. Chinese consumers and industry observers lauded the company for bucking a trend in which international luxury brands hike up their prices in developing markets. More recently, the company won a lawsuit allowing them to maintain their original Chinese brand name ("Tesila" in pinyin) in the country. If that victory marked a minor good omen for the company's future in China, then Beijing's barring of international EVs from receiving subsidies could hint at further setbacks.
Tesla has opened a flagship store in Beijing already and hopes to set up over 10 more outlets across the nation by the end of 2014. The company has gone on record stating that it hopes the Chinese market will contribute to over 30 percent of its sales growth for the year.
(Editing by Steven Millward)
(Image credit via Flickr user harry_nl)