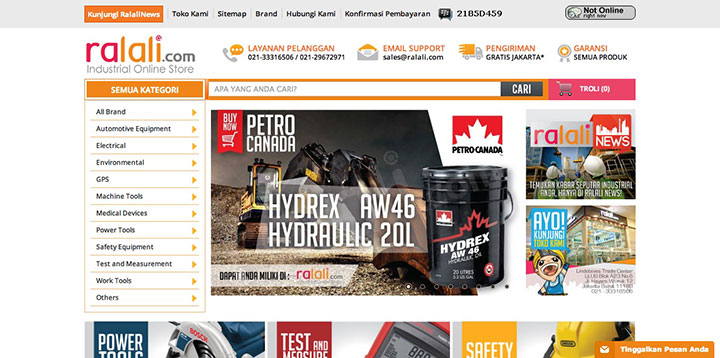 Since announcing its third fund in March, Singapore-based VC East Ventures1  has been actively investing in Southeast Asian startups recently. The latest one is Indonesia's Ralali, a B2C ecommerce site which sells industrial supplies as well as MRO (maintenance, repair, and operational) equipment. The startup announced today that it has raised an undisclosed amount of seed funding from East Ventures.
Founder Joseph Aditya – who has been plying his trade as a B2B industrial supplier since 2006 – came up with the idea after experiencing difficulty in finding the right information when wanting to purchase some industrial tools and equipment. "We are trying to simplify the procurement process by providing a one-stop shopping site for industrial tools and MRO products," says Aditya. That's needed because procurement teams don't normally have technical or engineering backgrounds.
Ralali strives to provide the most complete and transparent industry product information, pricing, technical guidance, and post sales support. Launched in July last year, the team is working with 80 brands to supply more than 15 product categories including hardware tools, power tools, safety equipment, and machinery. Ralali's market includes about 500,000 businesses in Indonesia like manufacturers, contractors, facility and building maintenance, and automotive players.
(See: 30 fundings and acquisitions in Indonesia in 2013)
The startup also has an offline store located in Jakarta's industrial equipment center, Glodok. Aditya explains why they need an offline store for this sort of business:
Our business differs from typical ecommerce where customer's order quantity and value are relatively small and the transactions are done through the websites. Our order value is much higher than average ecommerce basket size and customer trust is a big issue we need to address.
There aren't a lot of ecommerce sites specializing in selling industrial tools like Ralali in Indonesia. While buyers can find those products in sites like B2B marketplace IndoTrading and Indonetwork, neither website specializes in industrial items.
Recently, East Ventures also dished out some cash for Indonesia's ecommerce website builder Sirclo, Singapore's online platform for art Artloft.co, long-term property rental search website 99.co, and Thailand's health and beauty ecommerce BuzzCommerce.
---
Disclosure: East Ventures invests in Tech in Asia. Read our ethics page for more information.↩