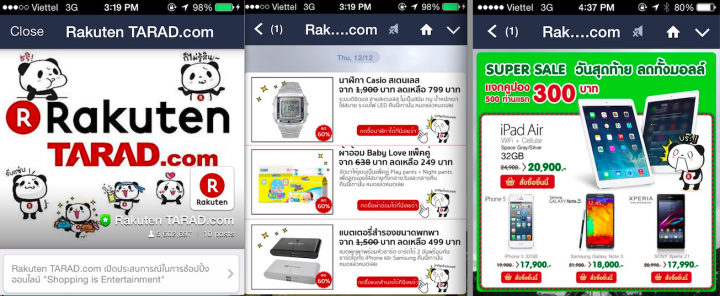 Mobile commerce (m-commerce) is likely to be a big thing in Southeast Asia next year. We've seen that from the initial successes of Carousell in Singapore, chat app Line's flash sales in Thailand, and Taobao's expansion into Southeast Asia.
Rakuten Tarad.com, one of the largest e-commerce sites in Thailand, is also bullish about m-commerce. It believes Line, a chat app that is becoming increasingly popular in Southeast Asia, is the best way to go about it.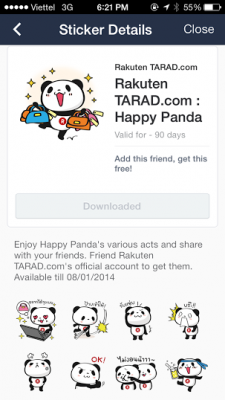 Rakuten Tarad.com has recently launched its own Line stickers exclusively for the Thai market. Along with the stickers, it has also started its first m-commerce campaign on the chat app.
The move makes sense. Since Tarad launched its official Line account, it has garnered over 5.6 million followers. In fact, the company told Tech in Asia its Line account reached 3.2 million followers within 24 hours. It claims to be one of the top three fastest growing accounts in Thailand.
Pawoot (Pom) Pongvitayapanu, president of Thai e-commerce association and the Tarad.com founder, explained why the company chose Line as a channel instead of just sticking with its own website:
For us, Line is a good way to generate traffic. We can increase sale a lot from the Line app. Plus, Thai people use Line quite a bit so I believe this is a really good channel to reach a mass audience.
In fact, Line did help the e-commerce platform grow quite impressively. According to Pawoot, the company received 600 orders of various types within the first half an hour after it sent out a link through a Line message.
One of our merchants happily said they wish they could just stop their product selling for a while since there were so many orders coming through Rakuten Tarad.com's Line channel. They barely have enough time to pack and provide delivery service to all purchasers.
After very successful partnership with Line in Thailand, Rakuten Tarad.com expects that its official Line account will generate up to ten percent of the company's total sales in 2014.
But it's also open to working with other chat apps. Here's how Pawoot sees it:
Line has given us good results so we will keep using it. However, the competition in chat apps driving mobile traffic for e-commerce stores is getting more aggressive. So as a marketplace, we want to keep track of the best and most efficient channels. We will use those that given us the best performance.
Since m-commerce could be the next big growth sector, it's tempting for merchants big and tiny to enter the space. But Pawoot thinks that cost is the biggest obstacle for small companies, since they would have to deal with paying Line an exorbitant sum to help them generate sales.
With that in mind, Tarad.com, as a marketplace, has been selecting merchants on the site and working with them to offer special deals for its customers via Line. That's a welcome bonus for sellers, given that Tarad is already charging them three to five percent commission per sale. That way, even the smallest players can benefit from the chat app's massive reach.
(Editing by Terence Lee)