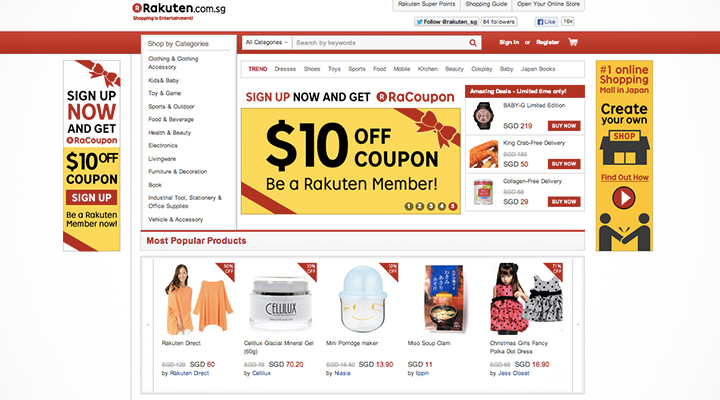 Singaporeans addicted to online shopping now have another option to choose from – Rakuten has officially launched in Singapore, and is now taking orders.
The launch was announced on Rakuten Singapore's Facebook Page last night, and hinted at by the Japanese e-commerce company since August. The Singapore site currently sells a wide variety of items, ranging from clothing to electronics to books.
Shoppers in the country are also eligible for the Rakuten Super Points reward program, where they can earn redeemable loyalty points with each purchase.
The e-commerce giant has long been courting Singapore before the launch. It organized a startup challenge that invited developers to create online stores using its API. It's also heavily involved in the local startup ecosystem, acquiring Viki for a reported $200 million, leading a $800,000 investment round in mobile marketplace Carousell, and also investing in air-time billing startup Coda Payments.
While it has not done too many marketing activities targeted at shoppers, that may change in the coming weeks as it faces a competitive landscape featuring Rocket Internet, Amazon, eBay, Qoo10, and even Chinese C2C marketplace Taobao.
(See also: 11 options for Japanese online shopping that aren't Rakuten or Yahoo)
(Editing by Willis Wee)