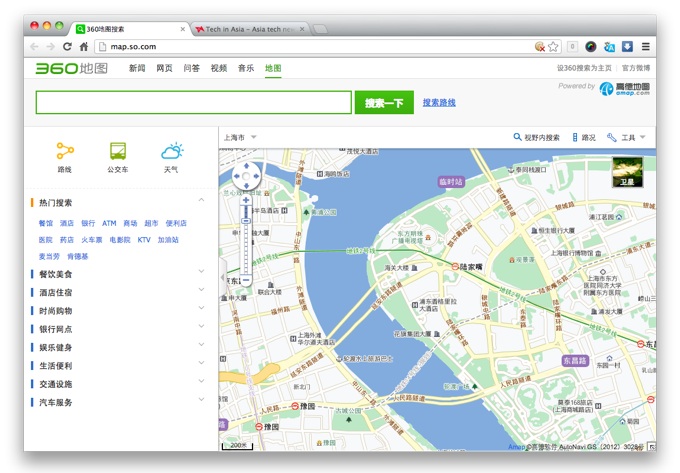 Another day, another new feature added to Qihoo's (NYSE:QIHU) fledgling search engine service. But, as with previous elements added to 360 Search – like yesterday's music portal – it's with a little help from a friend. For 360 Search's new maps service (pictured above), Qihoo has tapped Autonavi (NASDAQ:AMAP) as a partner.
And so the maps on the 360 Maps page (map.so.com) all come from Autonavi, replete with advanced tools like bus routes and local listings.
Regular readers will be aware that Autonavi makes China's top mobile mapping app, with 25.9 percent market share, which is ahead of Baidu by a good margin. Autonavi is also Apple's partner for China-area maps.
It has been a chaotic few months for Qihoo's search engine. When it launched in August of this year, Qihoo simply linked to many extra services from rival Baidu (NASDAQ:BIDU) to fill the gaps in 360 Search. But Baidu was not really into Qihoo's sloppy seconds. After Qihoo's site initially launched with things like 'news' leading to Baidu News, and 'maps' heading to the Baidu Maps page, these soon vanished from 360 Search, leaving Qihoo offering little extra to its users.
But now Qihoo's search service has five tabs at the top, thanks to proper partnerships like the new one with Autonavi. It's possible that Qihoo will launch an in-house mapping service in the future – to rival Autonavi as well as Baidu – but that would take some time. As Apple is well aware, you can't rush the creation of online maps.
[Source: Techweb – article in Chinese]