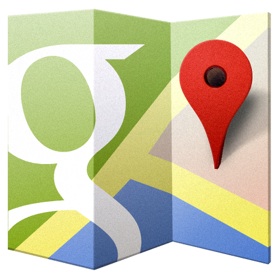 It seems clear in which direction Google Maps is heading in China. Down. New stats for Q3 2012 for mobile maps app market share in the country show Google Maps getting even more lost amidst strengthening local competition, losing nearly half its market share and slipping to sixth position – that's down from second place in Q2.
The fall of the Google Maps app sees it leapfrogged this quarter by Baidu Maps, Mapbar, Tiger Maps, and Sogou Maps. Google now has, in this data from Analysys International, 9 percent share of the mobile mapping market in China, down from 17.5 percent in the previous quarter. This data covers all smartphone platforms, but not feature phone OSes such as Symbian S40. We put all that into a new pie chart for Q3 2012: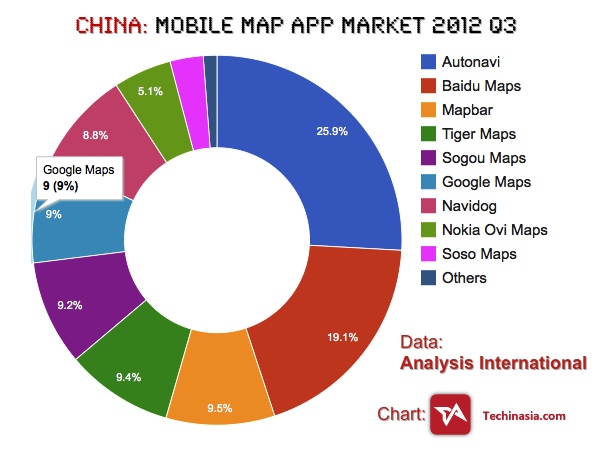 After earlier gradual drops, it's not clear why the Google Maps app suddenly lost half of its share in just a few months. There might be no single reason. While Android is booming in China, various localized flavors of Google's (NASDAQ:GOOG) mobile OS don't come pre-installed with Google Maps, so Google's mapping product doesn't necessarily get to ride that wave of smartphone popularity here. Plus, the website version of Google Maps is partially blocked by the Great Firewall, which might give some consumers the idea that Google's product is faulty or slow.
The other foreign competitior in this sector, Nokia's (HEL:NOK1V; NYSE:NOK) Ovi Maps, had a bad quarter too, dropping from 7.3 to 5.1 percent share.
Autonavi is stagnant at the top, and Baidu's oft-updated maps app is growing slowly but surely.
If you're looking for Apple Maps that appeared recently in iOS6, it's too early to figure in the chart for Q3 which runs from July to October. But clearly it has some very strong local competition to deal with, though Apple's China maps might be boosted by being sourced from market leader Autonavi.
[Source: Eguan/Analysys International – article in Chinese]