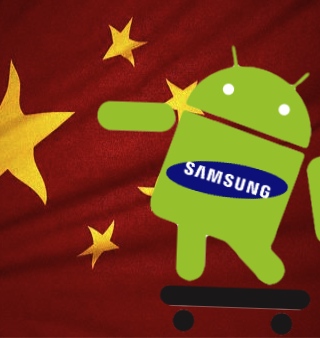 It has been another record-breaking quarter of smartphone sales in China with more than 42 million shipped in the country in Q2 2012. That's from the newest report by the analysts Canalys. That represents 199 percent year-on-year growth in smartphone sales in China, and 32 percent up on the previous quarter.
Canalys also notes that:
China accounted for 27 percent of the 158 million global smartphone shipments, compared to 16 percent for the United States.
Samsung (005930:KS) remained the top smartphone vendor in China with 17 percent market share of sales. (Backing up web impressions stats we looked at last year showing that Chinese consumers love the Samsung Galaxy SII). But it can't be complacent, as its sales were pretty flat. In second-, third, and fourth-place are, respectively, ZTE, Lenovo, and Huawei – all local brands. Lenovo saw astonishing 2,665 growth in shipments – but then it's always easier to improve on a previously crappy performance. Apple fell to fifth place despite being up 102 percent year-on-year. HTC grew 389 percent, mainly on the back of its new Desire V phones which look to be replicating the success of the first Desire model. Nokia and Motorola both fell sharply.
Here's all that condensed into our one simple graphic for China [1]: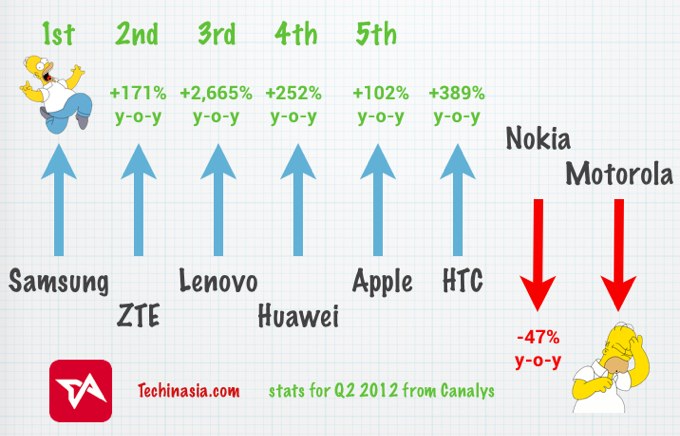 The one primary winner among all this is Android, Google's mobile OS, which is now on 68 percent of all smartphones sold globally. Apple's iOS, by contrast, is on just 26 million of them.
Samsung is on top worldwide with "over 45 million" smartphones sold – that's 35 percent of the pie. Apart from Taiwan's HTC, no Chinese brands cracked the top five. Yet. Interestingly, that differs from IDC recent report for the same period that declares ZTE a new-comer in the global top five smartphone brands.
[Source: Canalys; via TechCrunch]
---
Some growth/decline figures were not provided by Canalys in its summary to the media.  ↩