The Infographic of the Day series visually expresses important stories from Asia and the world of technology.
---
The Chinese mobile analytics company Umeng has released new stats which give us a clear picture of the Android user-base and the devices being used in China.
It shows us that in Q3 2011 Samsung (005930.KS) and HTC (TPE:2498) dominated the Android scene here, together accounting for about 53 percent of all phone traffic detected by Umeng. Bizarrely, it also reveals that Android tablets have become less popular this quarter, with decreased usage from Q2 to Q3.
Umeng only covers apps which utilize its mobile ad network – which we reviewed before – so this is not a measure of sales, more of active usage. But that's actually fine, as it covers over 10,000 common apps that are downloadable from a range of sources and alternative Android app stores. And so it gives a pretty representative view.
Android Tablets vs Android Phones
Yes, Android tablets – which seem to be as popular as stale cakes – saw even less usage in China in Q3. The Ionesco-esque rhinocéros in the room is that the iPad is still booming, whilst Android tablets are not quite so appealing to consumers. Meanwhile, in the graph on the right, we see the top ten Android phone brands in China: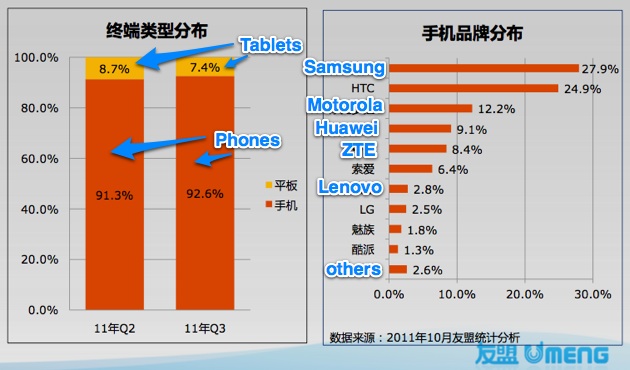 Phone Models
Samsung's GT-I9100 – better known as the Galaxy S – is the most popular single model of Android phone in China. Huawei snuck into a surprise second place with its cheap but low-end C8650: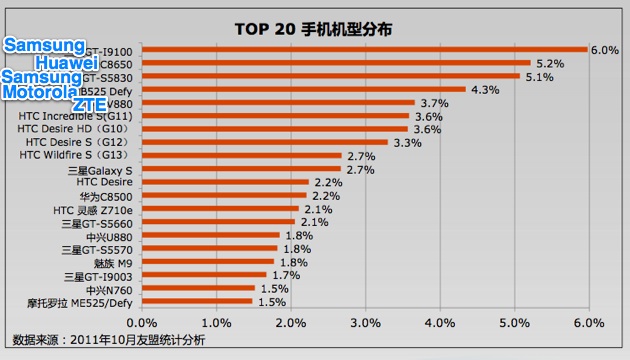 Tablet Models
Another victory for Samsung in terms of tablet models, with its seven-inch Galaxy Tab taking the top spot. It's another home-grown competitor in second place, but this time it's from Lenovo (HKG:0992):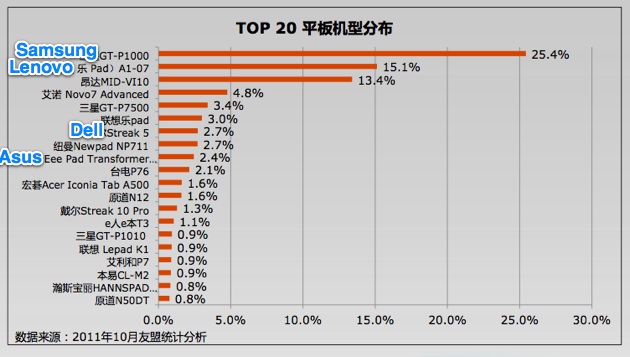 Powerful Androids
It seems people are more likely to have really powerful tablets than phones. The processor speed (the CPU) of most phones is spread quite evenly, suggesting a broad price range of devices. The afore-mentioned Galaxy S phone has a 1 GHz CPU, making it pretty speedy: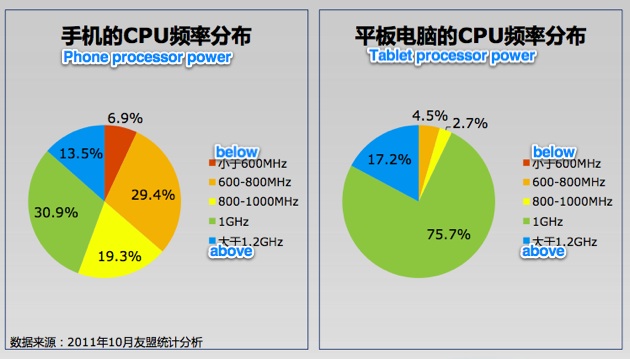 Phone Screen Resolution
Further indication that many people in China are on budget handsets comes from the fact that about 40 percent of people are using phones with a resolution of 320 by 480 pixels or less. Higher rez screens, such as seen on the new Motorola MT917 for China are creeping in slowly, meaning that local developers need to remember to create more detailed graphics for apps and games: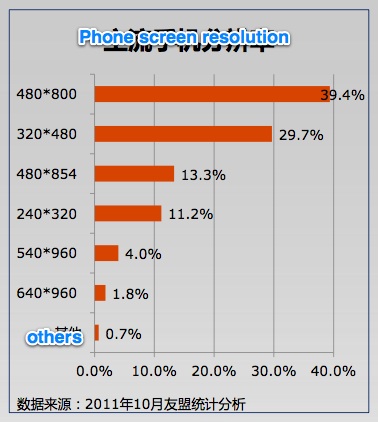 Tablet Screen Resolution
Here's the same scenario amongst tablet users here: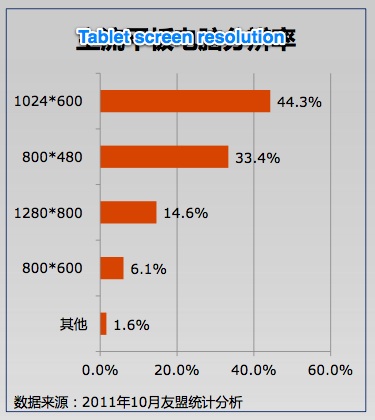 Pricey vs Cheap
From looking at the models that are on the Umeng network, the company has figured what kind of money people are currently spending on their Androids: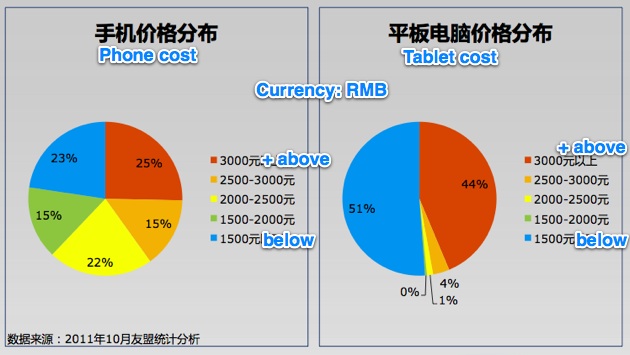 Across China
No surprises here, where the richest areas in China show the most usage of these smartphones and tablets. In descending order, the provinces are: Guangdong, Jiangsu, Zhejiang, Beijing, and Shanghai, which are highlighted in that blue rectangle: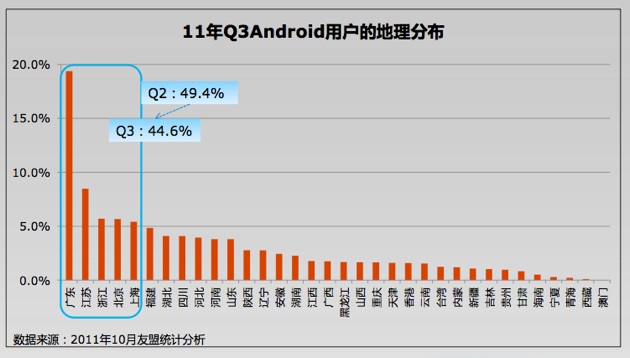 How Has All That Changed From 2010?
Good question, dear reader. Looking back at Umeng's report from Q4 2010, we see that Motorola (NYSE:MMI) and HTC had the most popular models. So it has not been too great a year for either of those to have been usurped by Samsung in 2011. Here's the old view from 2010: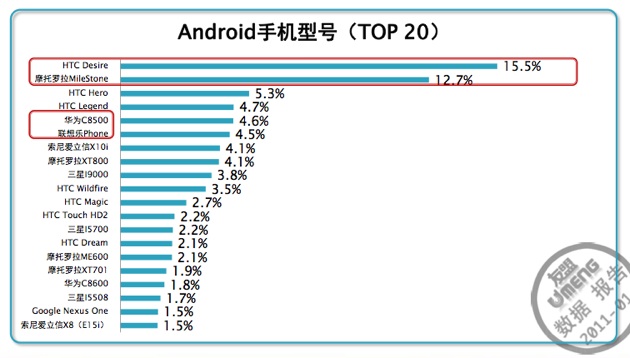 Download the full reports – and others from the archive – from Umeng at the link below.
[Source: Umeng report – page and report in Chinese]