We've been following the rapid progress of messaging apps very closely across Asia, and we've even noted that they might be a threat to the dominance of Facebook in the region. Now we have a clearer view of this seismic social shift in this new infographic. It shows that two nations have turned away from Facebook, Twitter and other large social sites in such numbers that a mobile-only chat app is now the leading social service in each of those places.
Yes, South Korea now has 19 million daily active users on KakaoTalk, and Japan has 36 million active users on rival app Line. That's according to the compiled statistics from social media agency WeAreSocial. When we looked at the overview from the same agency back in October last year, Cyworld was leading in Korea, and Twitter was top in Japan. But not any longer. WeAreSocial's Simon Kemp explains to us that he decided to focus on active users on the social sites to give a clearer view of what people are using. He explains:
The (previous figure of) 26 million was total registered users on CyWorld, but we're becoming increasingly aware that this does not represent active use. Also, the figures for KakaoTalk are daily active users, so the monthly active users (i.e. the figure Facebook reports) are likely to be much higher. Given that, we're confident that KakaoTalk is now the most active network in South Korea.
Here's the infographic map: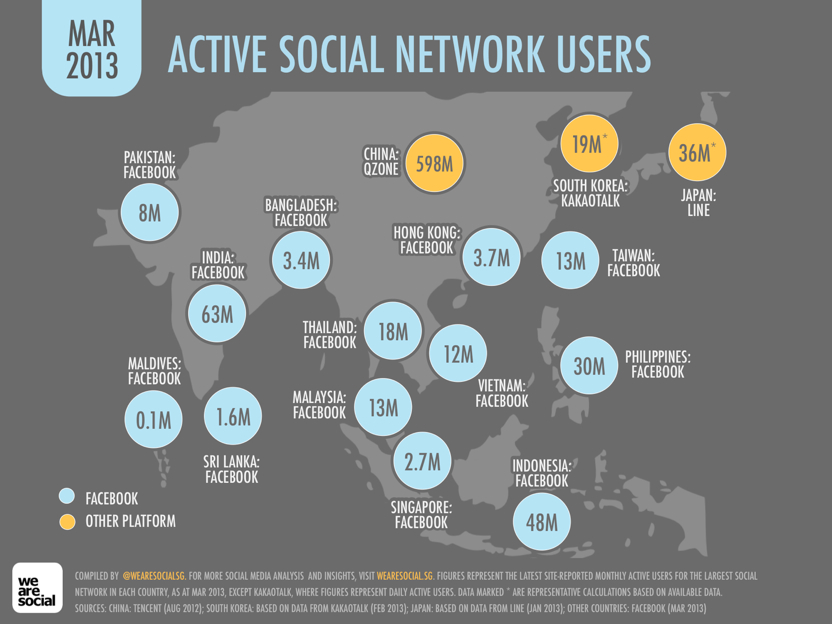 Overall, Asia now has 874 million social media users, according to Simon's calculations. Despite the recalibration to active users, that's still an 18 percent larger figure than was seen in last October's data.
Of course, Facebook (NASDAQ:FB) is still growing in Asia, despite the rise of messaging apps and its recent clean-up of fake accounts. Nonetheless, some drops in Facebook active usage have been observed in Singapore, Brunei, and Hong Kong.
Aside from Line and KakaoTalk, the China-based WeChat app is still one to look out for. As we reported last night, the makers of that app, Tencent, are planning to test a social gaming platform within WeChat this year. When that eventually launches it'll make the app an even stronger rival to Line and KakaoTalk, which are already benefitting from gaming integration.
On the whole, social media penetration remains at an average 23 percent across Asia: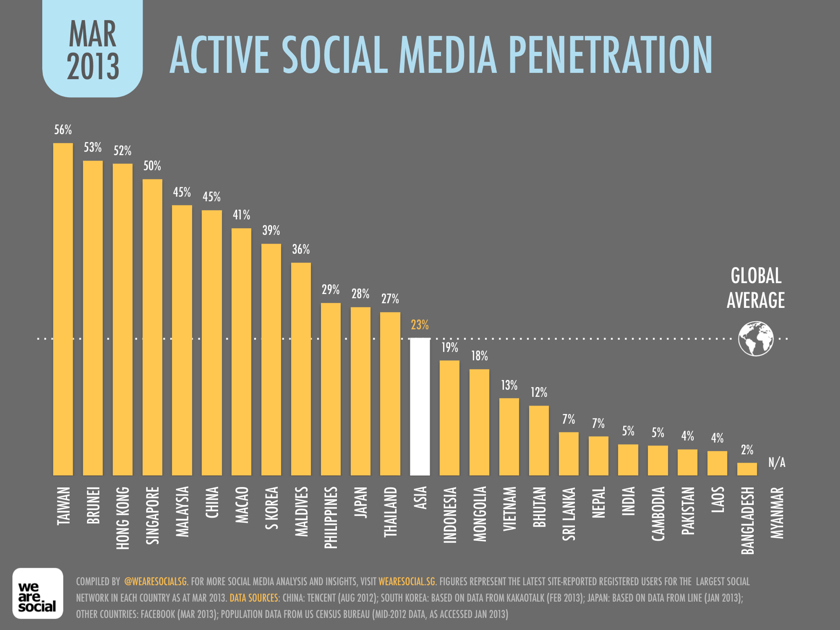 (Source: WeAreSocial Singapore)
For more fun graphics like this one, check out previous entries in our infographic series.