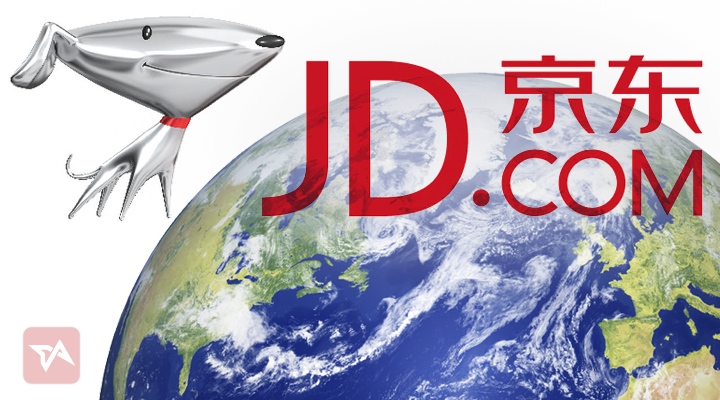 Back in October last year, China's second-biggest B2C e-commerce site launched a global version of its store that ships items from China. Now, after half a year of operations and a rebrand for the entire company from 360Buy to Jingdong, I was curious how the overseas sales were going, and asked the company for an update.
We're told that the international site (see here) is handling the rebranding by focusing on the acronym JD, though the frontpage URL of the revamped site hasn't been updated yet. In its early stages, the Amazon-esque JD Global, which sells everything from iPad cases to wedding dresses, shoes to CDs, is proving popular with overseas Chinese. Jingdong VP of retail and overseas markets, Shi Tao, explains to TechinAsia:
We are getting great early traction selling Chinese language books overseas. Given the number of Chinese living abroad, the challenges of carrying books internationally and the desire of people internationally to keep in touch with Chinese culture, books were a logical early target product. The JD.com Global site has a catalogue of more than half a million Chinese language books for consumers abroad, which is something you just can't find in foreign markets.
It seems like a good niche market to cater to, as the China-only Jingdong business effectively gives JD Global a larger collection than Amazon's line-up of Chinese language books in the US or the UK. Plus, there's an element of trust and brand recognition among this audience and the well-established Jingdong site. Plus, books are generally not a time-sensitive product – which is just as well when global shipping from JD's China warehouses can take a couple of weeks.
"A bite of China"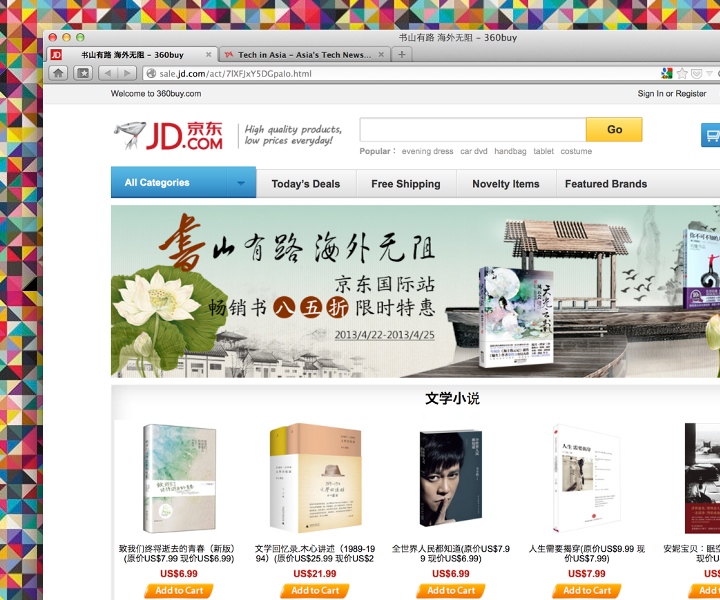 Jingdong explains that most of its book buyers are in the US, and that buyers tend to be individuals, not small businesses. The current best-seller on the site is A Bite of China, the DVD and book combo version of the popular cookery program by state broadcaster CCTV. Second is a book on the programming language Java. It's an odd mix, but it's apparently what overseas Chinese want. Plus, they get free shipping on purchases over $29, which includes those two popular titles.
Aside from that early traction, Jingdong representatives point out to us that the JD Global site is still at a very early stage, and they're exploring different demands in different markets and trying to remain flexible.
While JD is unique in shipping to overseas customers from its own warehouses in China, it's not the only option for consumers looking to buy stuff from China. Jingdong would not compare itself with 'source from China' platforms like Alibaba-owned AliExpress or smaller rival LightIntheBox, but there is some overlap in terms of products available on all three, such as things people overseas might really want to buy from China (knowing how much cheaper they are to make in mainland China) such as smartphone accessories or wedding dresses. But JD Global is the only one shipping books, movies, and music to an international audience. Plus, JD would argue that it's safer to buy direct from them, rather than from other sites that are a conduit for Chinese factory suppliers.
Presumably Jingdong wants a broader audience for its JD Global site eventually, but the Chinese diaspora seems like a good kickstarter.
Jingdong is second only to Alibaba's Tmall in China's massive B2C e-commerce market. Jingdong wrapped up a funding round worth $700 million in February, and is said by some analysts to be preparing a US IPO later this year.