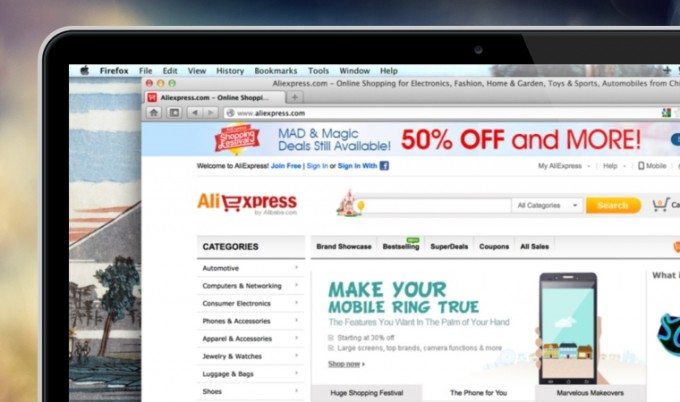 Alibaba has restructured and refocused its English-language AliExpress site so that it focuses more on global shoppers. Previously aimed more at wholesale buyers around the world to source from Chinese suppliers – rather like the company's Alibaba.com B2B platform – now AliExpress focuses more on selling individual items. In another shift, an increasing number of vendors on the site are not manufacturers, giving it more of a consumer-to-consumer feel.
While still serving small businesses who might want to buy in bulk – for which many merchants offer discounts – the site is now targeting shoppers, says an Alibaba representative, in Russia, the Middle East, Eastern Europe, and South America. Indeed, AliExpress now has more buyers in Russia than the US or the UK.
Claiming to have 38 million daily visitors from overseas, and with December 2012 revenues up 4.2-times over the previous year, it sees even more potential in a broader user-base of individual shoppers and small businesses in emerging markets.
Alibaba has also signed an agreement with Mastercard today that will see the two firms work more closely together – including for cross-border payments on AliExpress.
The Chinese e-commerce giant's most well-known online store, Taobao, is also venturing outside of China these days. Daphne Lee, who's responsible for managing Taobao's business development and marketing strategies outside of home turf, has told us that Taobao has 1.2 million registered members in Hong Kong and 600,000 in Taiwan – plus the site is targeting e-shoppers in Singapore.
Coupled with Alibaba's e-payments platform, Alipay, also being included in the cross-border memorandum with MasterCard, it seems the company is being more aggressive with its overseas strategy this year.
Daphne will be onstage at our Startup Asia event in Singapore next week, so this news will be added to my list of things to ask her about.