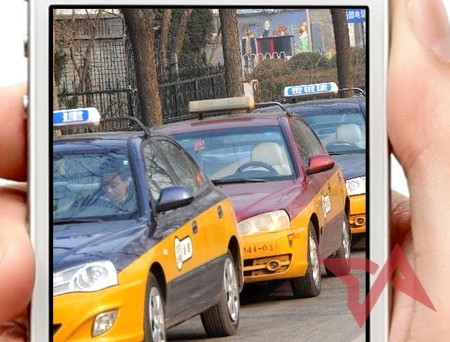 As seen in my colleague's recent review of China's top taxi finder app, such apps let potential passengers bid extra cash to get a cab driver to go pick them up. It's common to have to bid as much as RMB 20 ($3.23) to entice a cabbie to bother to use the app to come find you. Authorities in Beijing and Shanghai supposedly banned those extra tariffs (which are in addition to your taxi fare) last month, but the practice is still widespread. Now, however, Beijing's Municipal Transportation Bureau has reversed its ban on those extra tariffs within popular taxi finder apps – but it has imposed a fee limit.
According to the Bureau, these apps – a hot new business channel for many Chinese startups – may now include a bid of a maximum of RMB 5 ($0.80) in the capital for immediate street-side pick-ups. While taxis booked over four hours in advance may now charge, via any of those apps, an extra RMB 6 ($0.97). Those tariffs are in addition to the normal starting fare in Beijing's taxis, which is RMB 13 ($2.10).
Tariff = driver's incentive
Cheng Wei, the founder of Didi Dache – which claims to be China's largest app-based taxi finder service with 67,000 cabbies using it right now – told QQ Tech that the startup will abide by the new rules immediately and update its iOS and Android app accordingly. Didi Dache and other such companies have been forced to stop using extra tariffs during the ban – which is still enforced in Shanghai.
Note that the extra tariffs go entirely to the taxi driver. The taxi-booking apps themselves monetize via agreements with telcos over 3G data packages that are needed to keep app users in touch, via WeChat-style voice messages, with the drivers. So it's technically the taxi drivers who are losing money from this new tariff limit, though the startups in this sector might be hit my fewer drivers using the service now that they have less incentive to do so. But at least the reversing of the ban allows Beijing cabbies to get RMB 5 from their app pick-ups, which is better than nothing.
While this just applies to Beijing, it could prove to be a useful framework for regulation in other cities. But one city, Shenzhen in the south of China, has taken an even harder line and banned these apps entirely.
Perhaps all this trouble over taxi apps is a good opening for a company that operates with private cars/limos – such as Uber. Indeed, it's thought that China is on Uber's radar, and the US company launched in South Korea and Taiwan last week.
Alongside, Didi Dache, other major apps include Dache Xiaomi and Kuaidi Dache – both of which have received serious venture capital investment despite operating in a sector that tends to be tightly regulated by authorities.
(Source: QQ Tech – article in Chinese)
(Editing by Willis Wee)