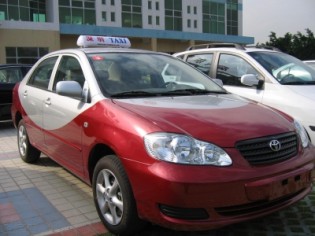 Taking a cab in China can be a real pain, but increasingly, smartphone apps can make the process quicker and easier by allowing you to contact many drivers at once and giving them a very precise read on your location. Passengers love it because it helps them find cabs, and drivers like it because it helps them find passengers. But apparently the Shenzhen Department of Transport doesn't love it, because Southern Metropolis Daily is reporting that cabbies around the city have been ordered to remove taxi-finding apps from their phones. Lame.
The department has not officially announced this move and declined to comment for the Southern Metropolis Daily story, but the newspaper received numerous reports of deletion orders from cab drivers in Shenzhen. Drivers were mostly notified of the change by their companies, but the article says that the reporter was shown a memo originating from the Shenzhen Department of Transport that says local cab companies must:
immediately begin thorough self-directed inspection and resolution for all drivers, order all drivers that have installed 'cab finder' software to uninstall it, and not to continue using it. If there are drivers who continue to use it, their dishonesty will be noted in their files and they will be entered for a quantitative evaluation.
The Department of Transport has also apparently been asking software developers to stop promoting these apps, according to one technology company in Beijing that said it had 4,000 drivers using its app in Shenzhen before the order came down.
The reason for the ban, apparently, is that the government is concerned these apps could "destabilize" the industry, leading to drivers refusing passengers or driving by them on the way to pick up app users. Since both of those things are fairly common anyway (despite the fact that they're illegal), I can't say I sympathize much with the Department's reasoning, and it's obviously quite a blow to app developers that have put time and money into promotions in the city.
In fact, this is just the latest in a line of anti-technology, anti-consumer decisions from Chinese government bureaus that seem to be more about protecting the status quo than serving citizens or making life more convenient. China's Railway Ministry, for example, has a long history of banning apps and services that attempt to make purchasing train tickets online easier, despite the fact that its website is terrible and its mobile app still hasn't surfaced.
This is ridiculous. While I can understand why the Shenzhen Department of Transportation might want to regulate taxi apps, banning them outright without offering any kind of alternative is needlessly stubborn and backwards. In an age when many city dwellers have devices in their pocket that can pinpoint their location and the locations of nearby cabs, why should people be forced to rely on luck and arm-waving to track down an empty vehicle? And why should cab drivers have to drive around randomly in search of a fare when their phones could be notifying them of all the available nearby customers with pinpoint accuracy in real time? Wanting to regulate this technology is understandable, but shunning it completely is just idiotic, especially for a city that's generally considered one of China's most technologically developed. Shenzhen, what are you thinking?
(Southern Metropolis Daily via Sina Tech)