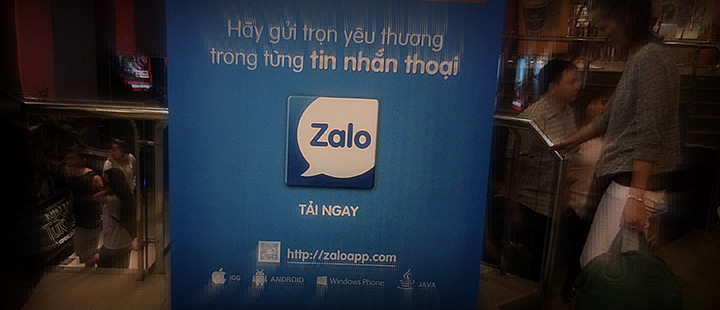 Back in February last year, Vietnam's biggest consumer tech company VNG made a consumer push for its new chat app Zalo. From then until now, Zalo grew at a breakneck pace and was on track to become Vietnam's top chat app. At the time, it was arguably behind international competitors like Viber, Line, KakaoTalk, and others.
But Zalo has emerged as a serious market leader in a year. Last time we checked, Viber was leading with 12 million total registered users and Zalo claimed to have 10 million monthly active users. But it's possible Viber is falling behind, since VNG stated it hit the 12 million registered mark. In other words, it's possible that Zalo is now the leading chat app on the market. For VNG however, Zalo's success is make or break. VNG must secure the mobile market in order to remain relevant in the next decade of Vietnam's consumer tech development.
Back in February, Zalo was on par with its foreign competitors in terms of technology. In fact, it offered some features that no other foreign competitors had, like sending doodles, word guessing games, and animated emoticons. But Zalo was a bit behind design-wise. The iPhone icon wasn't Retina yet and aesthetically it did not match up to apps like Line and Whatsapp, which look very sleek. But that didn't matter to Vietnamese users. In many ways the Korean and Japanese (KakaoTalk and Line) counterparts didn't understand Vietnam's local market enough to compete significantly with VNG, nor were they willing to spend as much on marketing.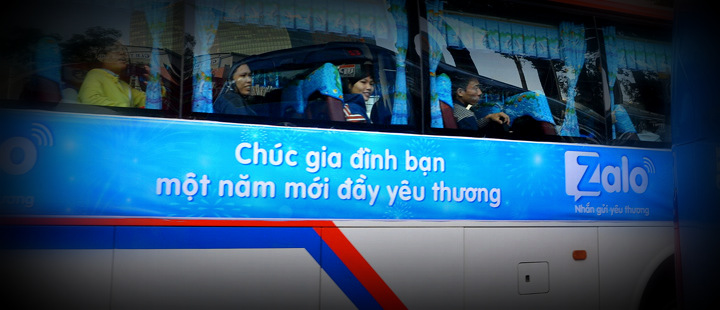 2013 saw one of the most ferocious battles for mobile users that Vietnam has ever seen. From TV commercials to elevator videos to online mobile ads, every Vietnamese consumer was inundated with ads from Zalo, KakaoTalk, and Line. When the dust settled at the beginning of this year, KakaoTalk had removed its Vietnam team and Line had completely stopped its marketing while Zalo ads continue to run today in Vietnam's movie theaters, taxis, and elevators. Viber and Zalo were the only survivors. But Viber hadn't spent one cent on marketing, whereas Zalo according to our sources in digital advertising companies, was consistently outspending its competitors. In fact, Zalo wasn't just outspending its competitors, but also doing it better. Le Hong Minh, CEO of VNG, told Tech In Asia that they had learned over the years doing marketing in Vietnam that when you sample a new product with a celebrity, you have to make sure the celebrity is using it visibly in the ads. This will make users want to use it too.
See: Sky Garden is VNG's attempt to dominate mobile gaming in Vietnam
In December 2013, Viber, just months away from closing a $900 million acquisition by Rakuten, was starting to spend money on advertising in Vietnam, clearly afraid that Zalo would overtake it. Now, four months later, although the battle rages on, it's foreseeable that Zalo will finally overtake Viber and become the dominant chat app in Vietnam.

VNG's key advantages
Viber's focus isn't on Vietnam; it is just one of many markets that its 100 million monthly active users are operating in, and although this number is the envy of many startups, it's also a weakness up against VNG. Despite getting up to US$100 million in revenue and valued by the World Startup Report at US$1 billion, VNG is totally focused on Vietnam. With the rare exception of a few games like Sky Garden, which shipped in China, or its social games that shipped to Japan, VNG has secured the majority of its revenue and users in Vietnam. Even with Zalo racking in millions of users, the Zalo team still has no interest in expanding beyond Vietnamese borders with any marketing or translation. There is no English version of Zalo.
On top of this, VNG also has a significant advantage from its early days building up Zing Me, a social media site originally titled YoBanBe, that it funded and then acquired. VNG subsequently grew this social media platform to multiple millions of users and tied this into its entire ecosystem of games, music sites, and more. Essentially, a Zing Me account was merely a passageway into VNG's many other web offerings. This is exactly what it wants to do next in mobile.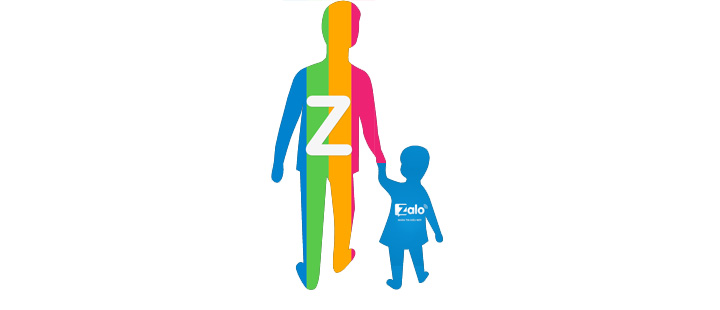 Zalo is the Zing Me for mobile
Essentially, the battle for Vietnam's mobile users is a battle for Vietnamese users' time and money. The chat app is one of the primary reasons that people open up their phones multiple times throughout the day to connect with their friends. No doubt, VNG sees this as an opportunity to expand its empire into the lives of Vietnamese citizens, away from the desktop. VNG is essentially a platform company, and Zalo is its trojan horse to ship more services to users. The question now is, what services will it serve via Zalo? What services do Vietnamese people need throughout the day on their mobiles? We can look to the rest of Asia for inspiration.
Games – VNG, formerly named VinaGame, has always had games at the heart of its product offerings. After all, it started out early on by licensing a Chinese game in Vietnam. Just this past week, Zalo offered its first product on top of the Zalo platform with Rocket Dog. Just like with Zing Me on desktop games, you need to log in with Zalo to play Rocket Dog, and when you want to share your points, it will only allow you to share on Zalo's Diary newsfeed feature. New games are coming too, like Mochi and Sky Garden. Games are one of the primary ways that apps like Line, KakaoTalk, and WeChat monetize. This could position Zalo among some of the most profitable apps in the world.
Today, Zalo only has two games that are connected to it. KakaoTalk has more than 426 games on its platform. But KakaoTalk and Line both make most of their revenues from their home countries. South Korea and Japan are both highly developed in terms of payment and mobile usage. What VNG is trying to do with Zalo presents much more barriers to making money, which is why the next potential revenue source seems even more difficult.
Stickers – In Q2 2013, Line revealed its revenues. It makes 53 percent of its revenues from in-app purchases, mainly stickers. But up till now, all the sticker packs on Zalo are free. One of VNG's biggest barriers to making money off of mobile will be fixing mobile payment. Appota and mWork, two growing competitors in the mobile space, have cracked making money off of ads and in-app purchases in Vietnam, VNG will need to come up with similar models or partner directly with telcos, which already take a significant percentage off of SMS and texting payment (from 30 to 50 percent).
M-commerce – In November last year, Xiaomi sold 150,000 smartphones in 10 minutes via WeChat. Just last week, VNG sold its ecommerce division to FPT's Sendo.vn, thus functionally getting out of the ecommerce business. But VNG will likely find it hard to resist entering the mcommerce business, given the potential that WeChat showed with Xiaomi. Will it be in flash sales or will it be with services like food delivery? Would VNG partner up with Zalora to sell fashion products?
Booking services – Last week, WeChat and EasyTaxi partnered up to offer WeChat's users taxi booking services. And since booking is essentially a type of ecommerce, it would make sense for VNG to partner with booking services. Arguably, services make even more sense since some are completely mobile-dependent, like Uber, GrabTaxi, and EasyTaxi. Booking hotels and transportation also make sense since most people who do travel have smartphones and many do their bookings on the go and online. Finally, 123Phim, an app for filmgoers in the city, revealed that VNG has been looking into listings, which is a smooth transition into booking.
What does VNG already have in the mobile space? – Finally, when we look at VNG's overall mobile play, there's a lot of products that could be weaved together. Beyond Zalo, we see that the company has invested heavily into utility apps like LaBan Key (a Vietnamese keyboard for Android), Laban Browser (a mobile browser), Zing MP3 (a music app), Bao Moi (a Flipboard-like news aggregator), and Zing TV (a TV streaming app). Will VNG pull all of these services closer together as Zalo becomes more and more the center of VNG's mobile play?
On top of this, what kind of information, products, and services does the average Vietnamese mobile user need? There are still many areas that are untouched. Areas like content, location, and the cloud contain great potential for VNG. In fact, at Tech In Asia, we wouldn't be surprised if VNG acquired some mobile startups along the way (or poached top people from existing ones).
Of course, this is all just speculation based on the fact that Vietnam's biggest tech company just released a gaming app called Rocket Dog tied directly to its 10 million-strong chat platform. But with a company intent on "embracing challenges", as its motto says, it's possible that VNG has even more planned for Zalo.