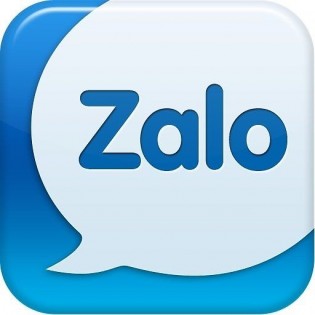 If Vietnam's got a heated battle for messaging app dominance, where is the Vietnamese contender? Well, just a few days ago, Zalo released a big update to its mobile messaging app (on Android, iOS and Symbian) and it has been blasting Facebook and Zing Me with marketing. The update has made the app significantly faster, added a VIP microblogging feature, fixed a bunch of bugs that were making the app unstable, and finally added a Retina app icon. I think Vietnam's finally got a viable product to contest foreign apps like KakaoTalk, WeChat, Line, Whatsapp, and Viber.
To be sure, Zalo isn't as sophisticated as the others. Some of the stickers aren't as pretty, and there aren't any games or mobile payments, but the beta was released last August and the first full release was in November. Give it time.
Just a 30-minute motorbike ride away from District 1, I visited VNG headquarters to meet the Zalo team. There's a full floor dedicated to the team. After sitting down with Vuong Quang Khai, the project leader, I quickly understood why:
Zalo is a combination of Zing and Alo (Vietnamese for hello on the phone). If you look at all of our VNG branding before, it's Zing Mp3, Zing Me, Zing Game, etc. we always featured the full word, Zing, as prominent. Zing is associated with web services. So Zalo is a step away from that. In fact, the original name for Zalo was going to be Zing Talk, but we decided to forget that. New all the way. Last year, we decided that "mobile first" was a really important strategy for us moving forward. The mobile market in Vietnam is huge and it is also where Facebook is still entering and not dominant. The name symbolizes the departure from the old and moving powerfully into something new.
The big staff reflects this renewal. In true Apple style, the Zalo team poached team members from other projects like Zing Me to build Zalo.
A lot of our users were asking, why hasn't Zing Me been updated in awhile? It's because we moved all our efforts into Zalo.
In a way, you could say Zalo is the new face of VNG. The full Zalo team is about 80 people, with 40 engineers and the business development, marketing, design, and backend support. Khai says that one of the reasons the engineering is so big is dealing with scaling and a dedicated push to mobile. Khai elaborates on what aspect of mobile messaging the Zalo team emphasizes most.
As far as mobile messaging goes, there are three main areas: communication, social, and entertainment. Each app has its strengths. Viber is strong in communication via its free calls and SMS. Line is strong in entertainment, KakaoTalk is strong in social. For Zalo, we want to push communication because we believe that is what is most important to users. Once that is solid, we will move into other features.
It's only a matter of time, and most likely a very short time, before we start to see games on Zalo. VNG, after all, used to mean "Vina Gaming" and the company has strong roots in the gaming industry. VNG currently has 5 game studios that produce games and some are already testing mobile games like the very successful Skygarden.
As of late January 2013, Zalo has over 500,000 users. Zing Me, VNG's social media platform, has over 8 million. But Zing Me is targeted at a teen audience, whereas Zalo is looking at a broader market with people between 20 to 30 years old.
In addition to chatting over the mobile network, Zalo also has group chat for specific topics like love, events, and education. Obviously a throwback to the popularity of Vietnamese forums, and not a prominent feature on foreign messaging apps. With a team of Vietnamese designers, the app also features a plethora of Vietnamese-specific stickers. Like WeChat, Zalo also has the ability to search for new friends nearby and and to follow celebrities or friends via microblogging. And of course, there are photos; an app can't survive in the 21st century without them.
With Zalo's latest update, it's foreseeable that the app will become a significant contender in 2013 for the typing thumbs of Vietnamese mobile users.
You can download the apps on iOS, Android, and Symbian here.