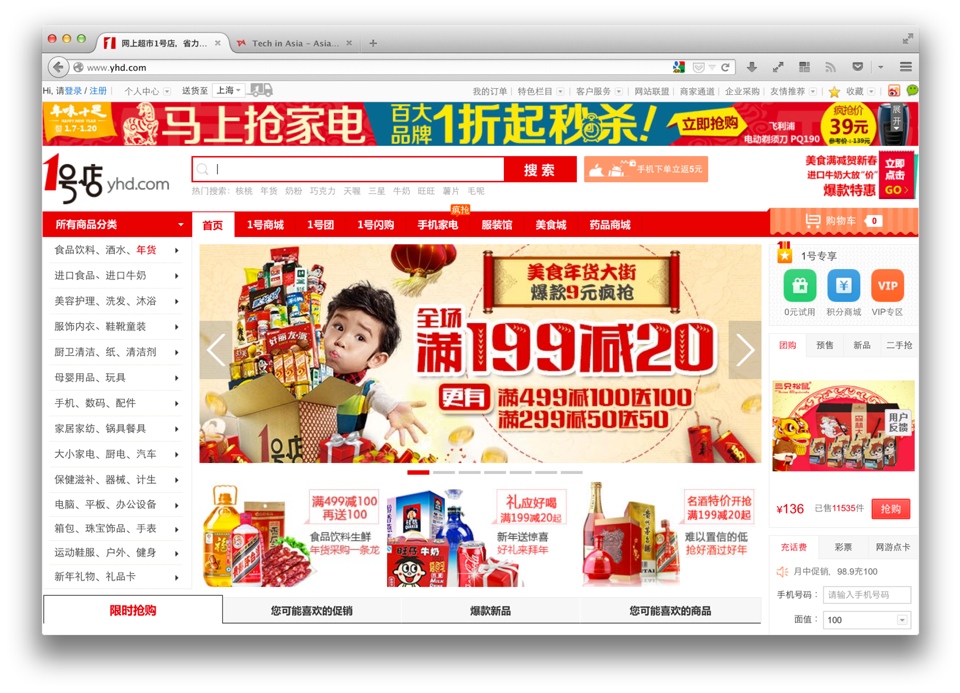 In 2013, China had an estimated 270 million e-shoppers who spent about $180 billion (1) on stuff. Inevitably, some of those are buying groceries. China's top online supermarket is Yihaodian, which has been majority owned by Walmart (NYSE:WMT) since 2012, though the e-store came online in 2008.
Today Yihaodian revealed some figures about its performance in 2013, as spotted by the QQ Tech site. Yihaodian saw close to $1.9 billion (RMB 11.5 billion was the figure given) in sales last year, which marks a new high. That also brought it into an exclusive club of only five sites in China to have rung up over RMB 10 million ($1.64 billion) in transactions in a single year.
The billion-dollar club
In case you're wondering, the other four Chinese e-stores in this exclusive club are Alibaba's Taobao and Tmall with a collective $159 billion in sales revenue in 2012, rival Jingdong with $9.85 billion, and gadget-oriented Suning with $3 billion.
(PHOTOS: China's Yihaodian plans 1,000 virtual supermarkets where you'll shop with your smartphone's camera)
Fun facts
Yihaodian revealed more numbers today:
From 2012 to the end of 2013, registered users grew from 29 million to 57 million .
Yihaodian now has 3.4 million items in stock, double its 2012 tally.
Amidst never-ending food safety scares in China, Yihaodian sold 250 million imported food items last year.
Also due to safety concerns over baby milk powder in China, Yihaodian accounted for 37.2 percent of China's imported baby milk formula last year.
Of course, Walmart itself is not immune from food safety scandals. Just this month, fox meat was found in donkey meat at the US retailer's stores in China, forcing a recall of its donkey products. It's not clear if Yihaodian was implicated in that controversy.
Yihaodian plans to double its imported foods selection in 2014. Plus, it'll diversify further with more of an emphasis on skin-care items, gadgets and small home appliances.
Though Yihaodian is China's biggest specialist food e-store, it's not alone in this sector. Broader e-commerce stores like Tmall and Jingdong also sell food items, and Jingdong added a supermarket section in May last year.
(Source: QQ Tech – article in Chinese)
(Editing by Josh Horwitz)
---
That's on business-to-consumer (B2C) e-stores only, not including consumer-to-consumer (C2C) online marketplaces such as Taobao and Paipai.  ↩