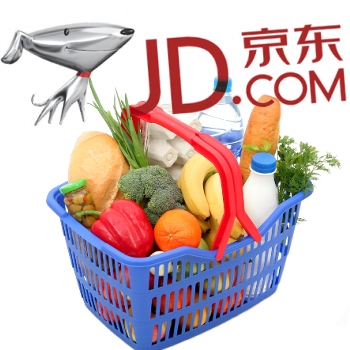 China's Jingdong (formerly called 360Buy) is expanding yet again from its original Amazon-style offerings, this time adding a supermarket channel (see here) to its e-commerce site. The addition brings more than 5,000 types of groceries, packaged foods, beverages, and snacks.
This move is a direct challenge to Yihaodian, the country's largest food-only specialist e-store, which is majority owned by American retailer Walmart. Like Yihaodian, Jingdong ships its foodstuffs direct from its own warehouses. In contrast, Jingdong's main rival, Alibaba's Tmall and Taobao sites, serve as intermediaries for food retailers, and those stores then dispatch the items to online buyers.
Jingdong says that shoppers can buy a single item if they wish, and there's no obligation to buy a huge virtual basket of groceries. Aside from some common food staples, Jingdong's new supermarket stocks some interesting imported items that most regular brick-and-mortar stores wouldn't have, such as Spanish olive oil, or dried mangoes from the Philippines.
Jingdong switched to its current branding in March. The company's latest funding round in February this year raised $700 million.