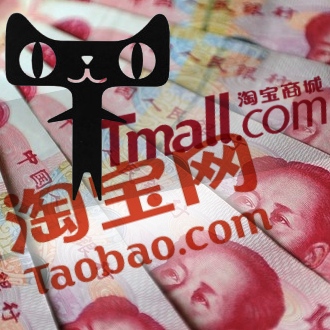 China's largest e-commerce company, Alibaba, has just announced that two of its sites, Taobao and Tmall, have collectively hit RMB 1 trillion (US$159.5 billion) in sales for the whole of 2012. Well, from January to the end of November. That huge figure has been hit one month before the end of the year, reached on the night of November 30th.
That's the equivalent – and brace yourself for this – of every single person in China personally spending 769 RMB ($122) on the sites this year!
When we heard Alibaba CEO and founder Jack Ma talk in September of last year at the company's annual conference, he said he was aiming for "one trillion RMB in transactions" in China in 2012 on Tmall and Taobao. So he's now got what he wanted.
The news is confirmed by an official post on the Taobao BBS (see it here in Chinese). For the sake of comparison, an Alibaba spokesperson tells us that the "2011 GMV [sales transactions] for Taobao.com was never announced, but for Tmall.com it was RMB 100 billion [$15.95 billion]." She adds:
This is a symbolic milestone in that it shows e-commerce has become an intrinsic part of how Chinese consumers shop for goods and services; this is also significant because we are seeing high speed growth in the [smaller] third and fourth tier cities, even outpacing consumer spending growth in first and second tier cities.
It is indeed a sign of the maturation of China's e-commerce sector when the general populace now seems to be outspending the generally more affluent – but fewer in number – Chinese middle-class, who tend to live in wealthier cities such as Beijing, Shanghai, Wuhan, and (Alibaba's hometown) Hangzhou.
The two shopping sites saw a total of $3 billion in sales in just 24 hours during China's recent November 11th online sales day – a figure which surpassed the entire spending online in the whole of the US on Cyber Monday.
This graph shows the growth in sales transactions on the B2C and C2C online malls since Taobao first started in 2003: