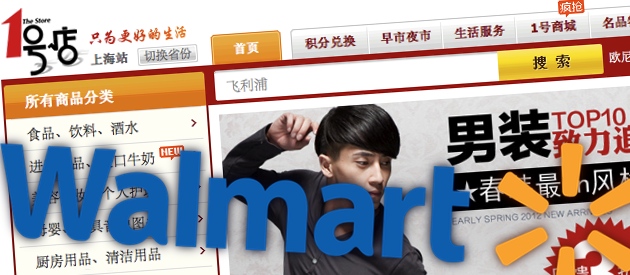 Fans of Walmart (NYSE:WMT) or Chinese e-commerce site Yihaodian may recall that back in February, Walmart announced its intentions to up its stake in Yihaodian up to a controlling 51 percent of shares. That buy, however, wasn't official until the company got approval for it from China's Ministry of Commerce, which it did on Tuesday, according to information posted on the Ministry's official website.
The deal is not being allowed to go through unrestricted, though, and Walmart and Yihaodian have had to agree to some conditions. Among other things, Yihaodian must continue to use its current platform for sales, and Walmart is banned from using VIE structures to operate any of the telecom services Yihaodian runs.
Still, the fact that the deal wasn't canned altogether as monopolistic is good news for the two companies, and especially for Walmart, whose stock is up slightly today following news of China's approval.
It will be interesting to see what Walmart does now that it owns a controlling stake in Yihaodian, but don't expect to see any massive changes. In fact, what my colleague Steven wrote back in February is probably still the best explanation of what Walmart really wants to do with Yihaodian:
It's not just online clout that has attracted the US retailer to the Chinese online store. Yihaodian, since its inception in July 2008, has built a sophisticated warehouse and distribution network covering much of the country so as to offer same-day or next-day delivery. Walmart, as one of China's leading bricks-and-mortar supermarket chains – along with France's Carrefour (EPA:CA) – will integrate some of its own logistics with Yihaodian's.