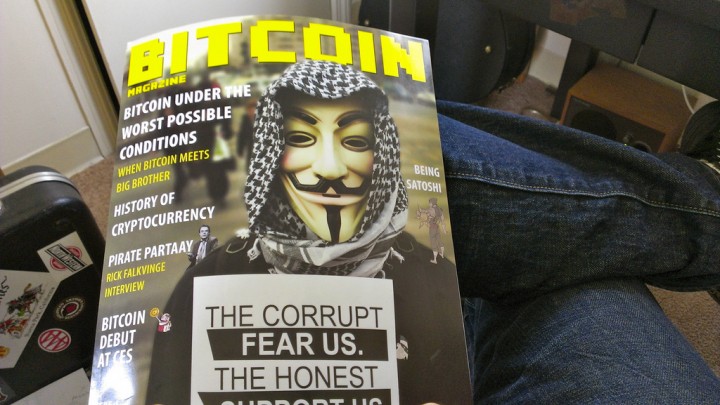 Bitcoin is one of those things that will always be shrouded in some sort of mystery. Even the matter of who founded Bitcoin is till this date unconfirmed.
The authorities have always feared the unknown, with governments and major banks opposing and seeking to regulate Bitcoin. But enthusiasts seem to remain unfazed. Case in point: Singapore Bitcoin payments system startup CoinPip has just brought US-based 37coins' SMS bitcoin wallets to Singapore. The Bitcoin point-of-sales company hopes to then expand throughout Asia thereafter, starting with Hong Kong and Indonesia in the next month or so.
(See: Here's our map of Singapore's Bitcoin ATMs)
Anson Zeall, co-founder of CoinPip, explained that his collaboration with 37coins' SMS-based system would make payments far more convenient for everyone, as compared to the current setup that relies on QR codes.
"The mobile market in Southeast Asia is extremely massive but the usage of smartphones is still lagging. So QR code scanning is not that useful," he said.
Making payment a walk in the park
Setting up a 37coins Bitcoin SMS wallet is simple enough. All a user needs to do is to SMS "hi" to the nearest SMS gateway, and a welcome text will be sent back. Following that, the user can send text commands to that gateway to control the wallet, such as "buy" (which lists Bitcoin sellers in the same country) and "bal" (which reveals your wallet's balance).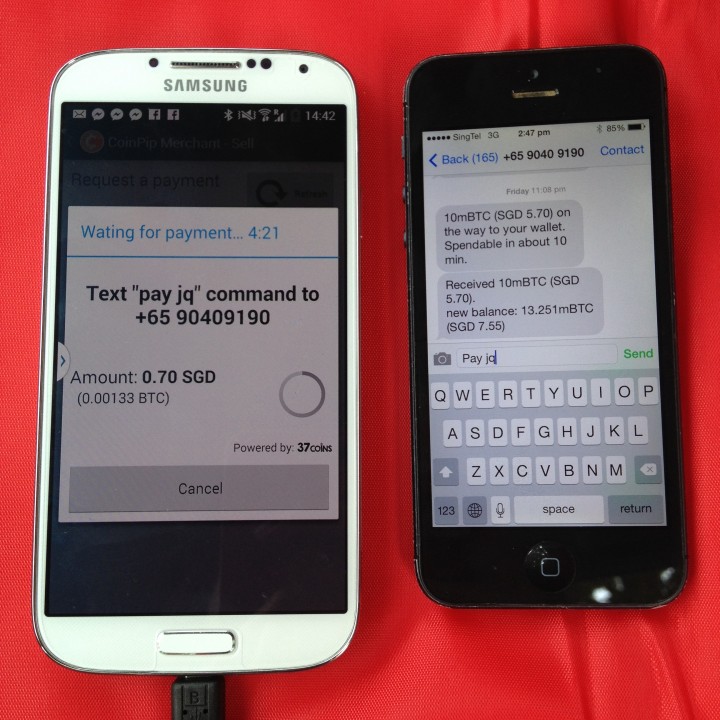 Currently, there are 12 gateways on the website, and CoinPip claims that you can send and receive Bitcoin from anywhere in the world.
CoinPip is also looking to offer better tools for their merchants. It released an online API that enables sellers to accept Bitcoin online. Merchants can now download the CoinPip Merchant POS app from the Google Play store too.
While most of the current users are early adopter Bitcoin owners and merchants, Zeall is confident that this will change soon. Without revealing much details, he said that CoinPip will be introducing a much easier vehicle to purchase Bitcoins in the near future.
Why SMS, and 37coins?
I was curious as to why they would choose to go with SMS rather than other more popular messaging options, such as Whatsapp and LINE. Zeall explained that the uptake of 3G phone payments is very slow in Southeast Asia simply because many still use 2G phones. By using SMS as the method of payment, CoinPip will be able to reach out to far more people. "Once people understand that 2G phones can carry bitcoins, I believe the mindset will start to change," he said.
However, Zeall revealed that they are currently talking with Telegram about collaboration options. Whatsapp, though, is out of the question as they are not open-source.
Why choose to collaborate with 37coins, then, with so many other Bitcoin wallet alternatives out there? He explained that other wallets run on centralized systems, while 37coins runs on gateways, which can be opened by anyone. In this way, power is placed into the hands of the people – much like Bitcoin itself.
"With this in mind, when we need to expand to another country, we just have to open our own gateway. We don't need to wait for 37coins to say 'yes' or 'no'," he added.
(Image credit: Flickr user Zach Copley)