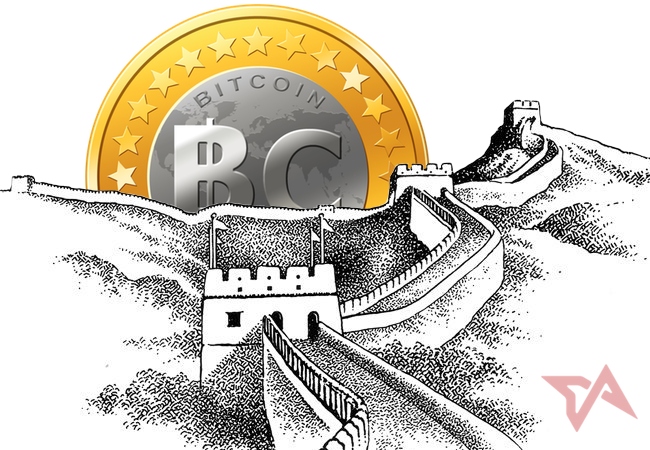 Update on April 10: China's bitcoin exchanges are being issued with formal notices stating that their bank accounts must be closed by April 15. China's BTCTrade exchange announced today that it has been contacted by its bank and told to remove all funds prior to the deadline or else the assets will be frozen. It appears that exchanges are being informed directly and privately, as the People's Bank of China has not issued a formal directive.
In contrast, BTC China has not received a notice from its bank, notes CoinDesk. Bitcoin prices are plummeting as the news emerges – the price is down to $410 right now on London-based Bitstamp.
This corroborates what we reported on March 27. The original post from March 27 is unchanged, below:
The People's Bank of China today ordered banks and all third-party payment services to stop dealing with anyone in the bitcoin business. The new ruling, seen in document form by Caixin newspaper, effectively de-funds all bitcoin trading websites as they will no longer have bank accounts. There's not yet an official notice in the PBoC website.
This is a major new blow from China's central bank against bitcoin and all virtual currencies. It first started in December when authorities stated that Bitcoin cannot be used as a currency. Shortly after that, payment services like Alibaba's Alipay and Tencent's Tenpay were told to halt processing all payments by consumers at any Bitcoin exchanges.
Treated like terrorists?
Today's move goes a lot further, effectively cutting those exchanges off from the conventional banking system. It's a move more often associated with attempts to cut off terrorist groups.
(See: Here's where all of Asia's Bitcoin ATMs are located)
Bitcoin exchanges in China have until April 15 to take cash out of their accounts, which can be done without penalty before that date. It's not clear what happens to any remaining assets once that deadline has passed. Caixin says the People's Bank of China document it saw lists 15 trading websites whose accounts must be closed before that deadline.
China's top three exchanges for the virtual currency are OKCoin, BTC China, and Huobi. It's disastrous timing for OKCoin, which got $10 million in funding last week. After the initial clampdown in December, it took BTC China nearly two months to start fully trading once again, taking Chinese RMB for bitcoin purchases via bank transfer payment method. With no bank account after April 15, that will be impossible.
Bitcoin is currently trading at (Editors' note: on March 27) $558.50 on London-based Bitstamp. That will likely plunge once this news circulates in English.
(Source: Caixin)
---
Want to learn more about bitcoin? Startup Asia Singapore 2014 will host a debate on the future of Bitcoin in Asia on May 8. Find out more info here.