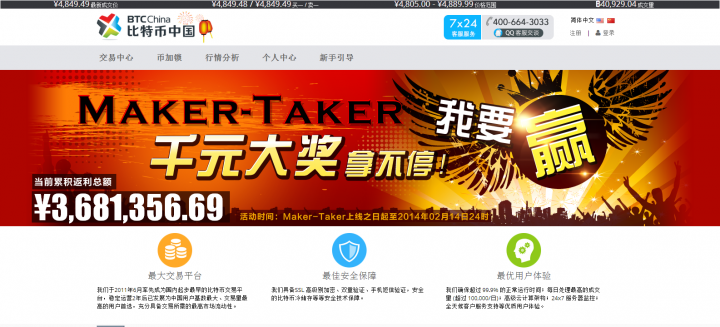 When BTC China in December stopped accepting deposits in its home currency, the renminbi, global Bitcoin prices went into free fall. Since then, what was once the world's largest Bitcoin exchange by transaction volume has been scraping by on a voucher system.
But today, after a six-week hiatus, BTC China is accepting deposits in RMB again (hat-tip to TNW for spotting). BTC China's Bobby Lee, in an interview with CoinDesk, says his company has changed its stance toward the central bank's notice, which restricted payment from financial and payment institutions. In Lee's new interpretation, the restrictions weren't really directed at Bitcoin businesses, but at the country's banks.
BTC China now offers a bank transfer payment method, but the third-party systems – Alipay, Tenpay, Yeepay, etc – are still nowhere to be seen.
The news might not bring forth a resurgence of Bitcoin fever like we saw late last year, though. Many Bitcoin enthusiasts cashed out when the Bank of China made its announcement in December. Regaining their trust won't be so easy, and the central bank has proven somewhat unpredictable in the past. Lee gave no indication that he spoke with government regulators before making the decision to accept bank transfers again.
As a gimmick to help regain some of its former glory, BTC China launched a program where those who post multiple buy and sell offers. The aim is to increase liquidity in the market. People who post offers receive a bonus fee, and those who take the offers are charged a fee. Until February 15, every time RMB 100,000 ($16,500) is rebated through the program, the maker and taker whose transaction passes the 100,000 threshhold each receive an RMB 1,000 ($165) prize.
Many of BTC China's domestic competitors, such as OkCoin and Huobi, do not charge a commission and have been using the bank transfer method for some time.
(Source: CoinDesk)
Want to learn more? Startup Asia Singapore 2014 will host a debate on the future of Bitcoin in Asia on May 8. Find out more info here.
(Editing by Josh Horwitz)