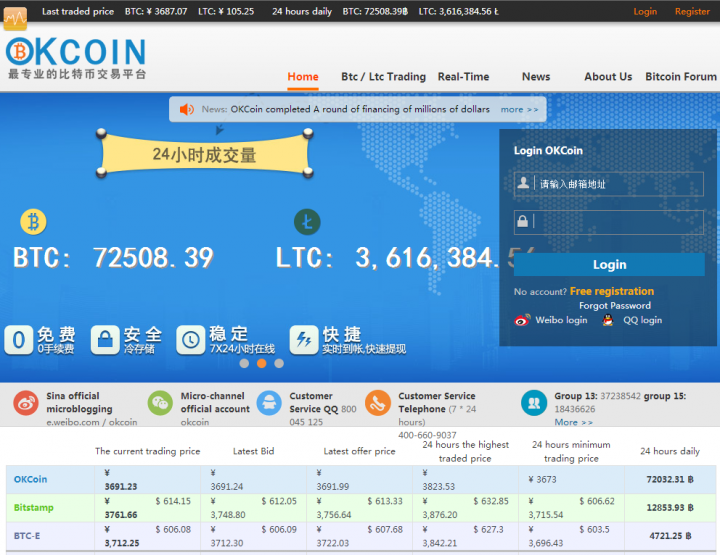 Contrary to popular belief, Bitcoin is not dead in China. Chinese Cryptocurrency exchange OKCoin announced today it closed a US$10 million funding round, according to TechNode.
Ceyuan Venture Capital led the investment, followed by Mandra Capital, Ventures Lab, and several angel investors. OKCoin revealed it actually closed the round late last year, but only announced it today. The company is already seeking a Series B round to expand overseas, according to its vice president. Other Chinese exchanges haven't shown any interest in going international, but it's unclear what distinct advantages OkCoin has over other exchanges.
Many people (including myself) cast Chinese Bitcoin startups into the deadpool after the world's largest Bitcoin exchange at the time, BTC China, halted deposits and sent global prices tumbling. The central bank prompted payment companies to stop accepting Bitcoin-related transactions. Adding insult to injury, the next biggest exchange, Japan-based MtGox, went into bankruptcy and lost hundreds of millions of dollars worth of its customers' deposits.
But OKCoin lay low during the turmoil, quietly going on about its business and continuing to accept bank deposits — no official laws were actually put in place to stop it (BTC China also starte daccepting deposits again, but never fully recovered). It's also diversified its business, adding alternative cryptocurrency Litecoin to its portfolio.
Now OKCoin has overtaken BTC China as the country's largest exchange by transaction volume. It received double the funding as its rival's latest round. OKCoin reports trading 50,000 bitcoins and 5 million litecoins per day.
(Source: TechNode)
(Editing by Terence Lee)