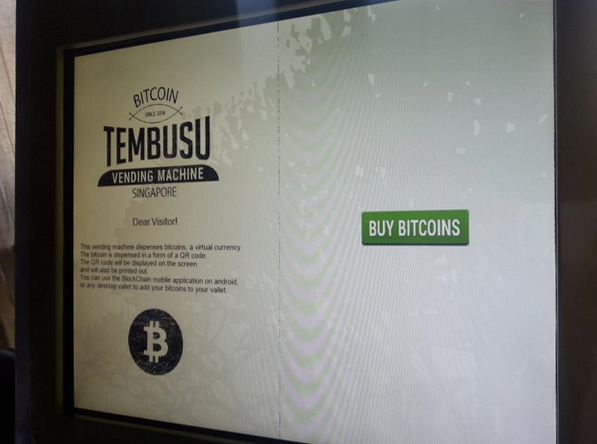 Tembusu Terminals, a Singapore-based startup producing locally developed Bitcoin vending machines, has raised S$300,000 (US$237,000) worth of seed funding from undisclosed Singaporean investors in exchange for a 5.8 percent equity stake.
The investment values the startup at S$5.1 million (US$4.03 million) despite having only rolled out one machine so far. The company did not reveal how many orders it has received for its devices, but said in a press release that the funding will help it fulfil "outstanding machine orders in a timely fashion."
The funding will be used to hire more employees and stockpile additional raw materials to "ensure uninterrupted production processes".
Tembusu Terminals attracted a lot of media attention in February when it launched what it claimed was the first Bitcoin vending machine in Singapore. The device is situated within Spiffy Dapper, a bar located in the Boat Quay area in Singapore.
Other companies like Numoni and Bitcoin Exchange have also rolled out their machines in the island, concentrating on Singapore's shopping and business districts.
(See: Here's our map showing all of Singapore's Bitcoin ATMs)
Tembusu's ATM includes security features like thumbprint scanning and the ability to scan ID cards to identify customers. It also has anti-theft and anti-money laundering capabilities built in, and the device be customized to fit the requirements of merchants and legal jurisdictions. The machine can also dispense fiat cash.
Tembusu Terminals was founded by three individuals: Andras Kristof, 44, Peter Peh, 25, and Jarrod Luo, 29. Andras Kristof is no stranger to the startup scene in Singapore, having been involved in Viki.com as lead system engineer until its acquisition for 250 million dollars by Rakuten. Prior to this project, the trio founded a business research and consultancy firm with a focus on cryptocurrencies called Estates General.
The past month was a tumultuous one for Bitcoin as Mt. Gox, which was once the world's largest Bitcoin exchange, disclosed that hundreds of millions of the digital currency had allegedly been stolen.
While Bitcoin's price has rebounded somewhat from its recent low, it is still not at the level before Mt. Gox began exhibiting signs of trouble. The stolen bitcoins are yet to be located.
(Editing by Vanessa Tan, photo credit: Ansuya Harjani via Twitter)