Japan and Korea are at the forefront of Asia's rush to smartphones, and are also markets where app developers can seriously monetize. As such, it's worth noting the quirks in each market so that developers can connect with as many Korean and Japanese app buyers and gamers as possible. Tokyo-based Metaps recently created this handy infographic guide to the two markets, highlighting some key strengths as well as areas of differentiation.
The first challenge in both Japan and Korea is to find out who are the app purchasers – essentially, who owns smartphones on various platforms. Metaps, which is an app monetization platform, reckons that, factoring in age groups and smartphone ownership, Japan's app market is double the size of Korea's, despite a greater population. That's likely due to Japan's older populace, which slashes the size of a tech product's potential user-base. In some other ways, the smaller Korean market also looks more exciting. Looking at penetration of these kinds of phones in both countries, you'll see that over 90 percent of Korean 20-somethings have one, compared to just under 60 percent of Japanese 20-somethings: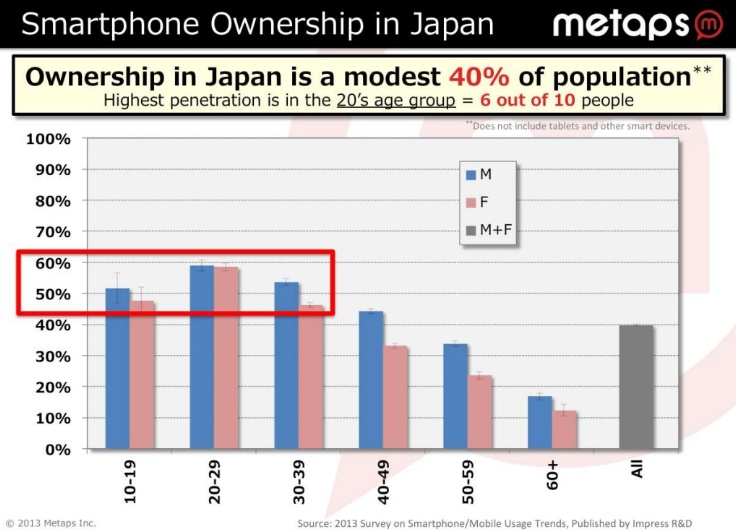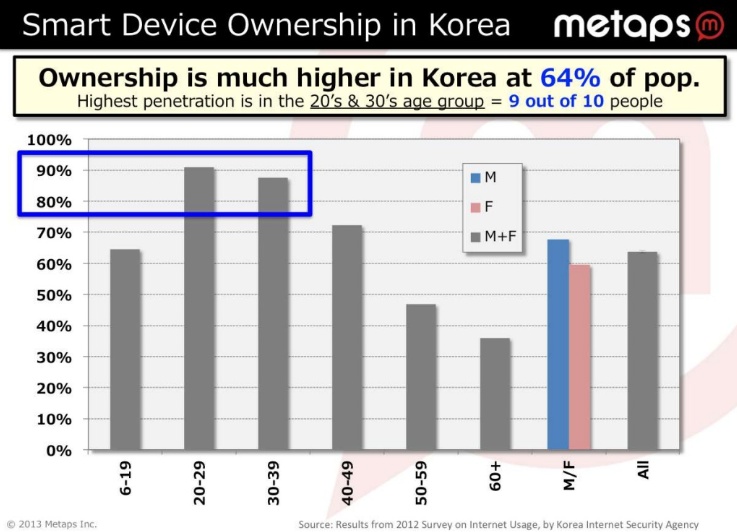 An older spread of users in Japan might be bad news for some social apps and could limit the reach of some of the sillier casual games out there. Though that hasn't stymied the rise of some homegrown products in the past year, such as Line messaging app, and fun games like Battle Cats. But, as AppAnnie noted recently, non-game apps are more likely to monetize in Japan, in contrast to the more game-obsessed Koreans.
That all translates to South Korea having over 32 million smartphone-toting mobile subscribers, with Japan's networks hosting about 48 million (see embedded slideshow below).
App markets
For the Korean market, being on Android is essential for any developer or startup. In fact, Korea has a higher share of Android device ownership than Japan. One of the biggest quirks in the Korean market is that the official Android app store, Google Play, is not all that popular. Metaps notes that the homegrown T Store (run by local telco SK) is more popular, with 19 million registered users last month. T Store has served up a whopping 10.8 billion Android app downloads since it launched in 2009.
The combination of Android and so many young users has been instrumental in the success of the nation's own messaging app rival, KakaoTalk. Though with about 30 million fewer users than Line (the latter surpassed 100 million users recently), KakaoTalk is pushing out globally as well. KakaoTalk has a social gaming platform, now rolled out globally, that challenges Apple's Game Center, DeNA's Mobage, and GREE. That has spurred the growth of casual and social gaming titles such as the Bejeweled-like Anipang. But there's a gap in the market for some more serious mobile gaming: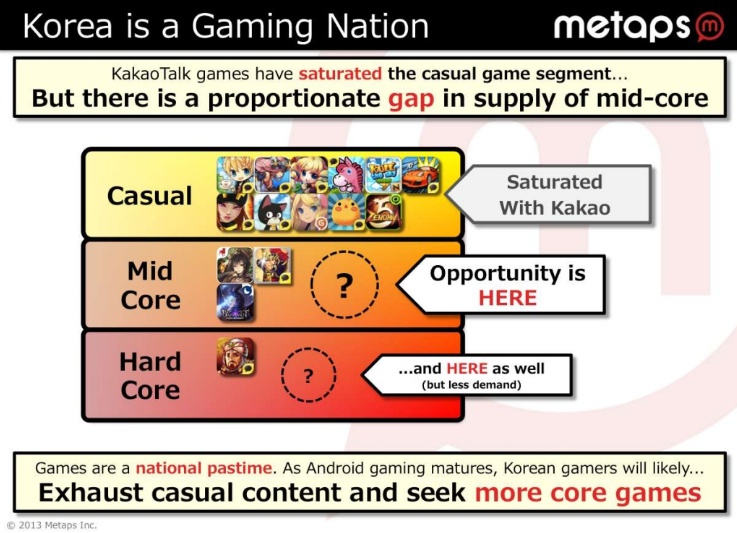 Google Play rules the roost in Japan, and Japanese app buyers and gamers reward developers by opening their wallets. That amounts to Japanese consumers accounting for 29 percent of Google Play revenue around the world, despite only downloading six percent of the store's global app total. Of course, Korea might fare better in these pies if the T Store could be factored in: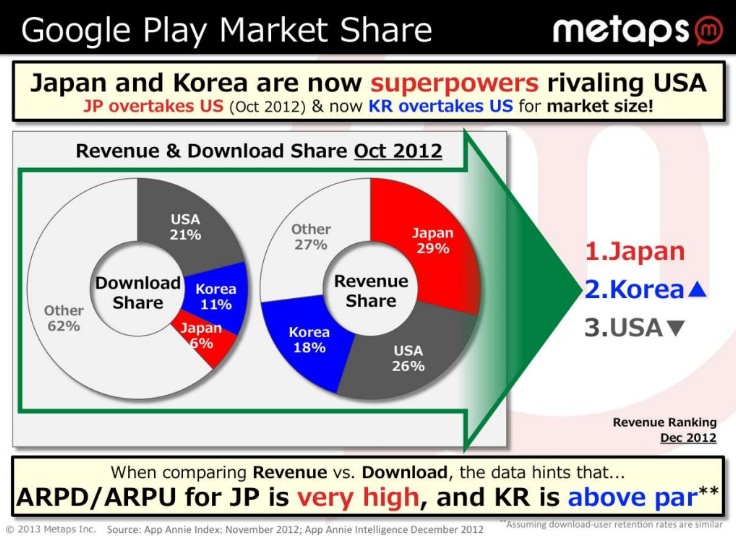 For an eyeful of ARPU, ROI and more cultural and technical tips comparing Korea and Japan, here's the full infographic slideshow: