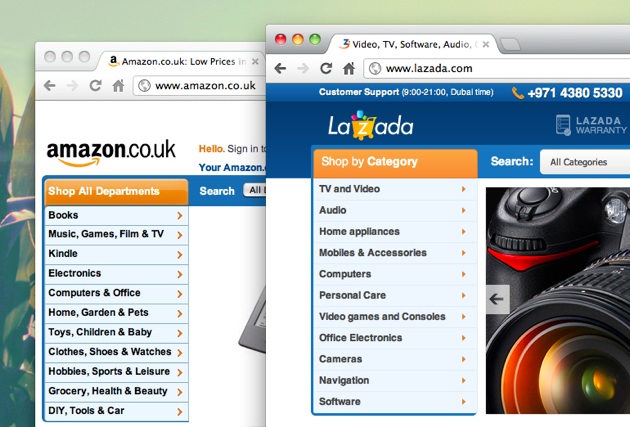 Rocket Internet recently launched fashion e-commerce site Zalora, and now it has brought out another e-commerce venture that's focused on selling electronics. It's called Lazada. The word 'lazada' itself is the Spanish word for loop, and it is another clone made by the notorious Samwer brothers, ostensibly following Amazon's model this time. Which is a polite way of saying it looks almost identical to the old Amazon.com before its recent refresh – or to the current UK version of the site (pictured above). Based in the Middle East – Dubai to be exact – Lazada has so far launched in Egypt, Indonesia, the Philippines, and Thailand.
Lazada.com will focus on electronic products such as cellphones, TVs, software, computers, and cameras. In Indonesia, there are several brands that have partnered with the new site so far, including Acer, Apple, Blackberry, Canon, Lenovo, Nokia, Samsung, and Sony. It offers free delivery to anywhere in Jakarta thanks to Go-jek Indonesia, just as we saw with Zalora Indonesia. Again, this is not a surprise since the CEO of Rocket Internet Indonesia is Nadiem Makarim, who's also the co-founder of Go-jek.
For Lazada to win the market in Indonesia, it will face the likes of local e-commerce mall BliBli, as well as Japan-based Rakuten's Belanja Online, the latter of which has been going all out recently to build brand recognition and gain market share.
Companies like Amazon or Zappos haven't been focusing on the Middle East or Southeast Asia region, which gives Rocket Internet a window to execute quickly in the hopes of being eventually acquired. It might set an example and a precedent for cloning big names and localizing similar services on an almost indistinguishable webpage.
What do you think about Rocket Internet's operations in Indonesia and other emerging markets? Let us know in the comments!