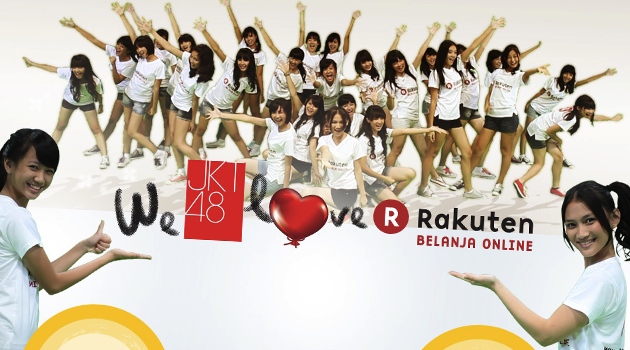 JKT48, the sister Indonesian idol band of Japanese girl group AKB48, is promoting Rakuten Belanja Online, the joint venture between the Japanese e-commerce platform Rakuten and media giant MNC Group. Since Chinese New Year, the JKT48 girls can be seen in a TV ad campaign for the Indonesian online mall.
In the 30 second commercial, the girls of JKT48 are larking around (see the video below) in the dressing room, apparently shopping on Rakuten on a laptop, and more. The point is to promote the range of women's clothing and accessories that can be bought on the Indonesian version of the site. Which is why the store's logo is everywhere in the video. There's also AKB48 special merchandising on sale to tie-in to this promo.
This traditional marketing campaign proves that the joint venture with media moguls MNC, which has three TV stations, is a big boost for Rakuten (JSD:4755), allowing it to reach out to some of the country's consumers who might be reticent about e-commerce. The JKT48 girls, which are buzzing among teens lately, were seen as the right models to represent Rakuten; it's also apt that there's a Japanese music connection between the group and AKB48.
The million dollar question is does an e-commerce site needs to have a TV commercial?. Tokobagus, one of the several key players in online retailing in Indonesia, launched a TV Ad campaign early last year and again at Ramadan. The company's site is now ranked 23rd among Indonesian websites according to Alexa, but even Remco Lupker has questioned whether it makes sense to spend that much on TV ad campaigns. What do you think? Anyway, here's the TV segment: