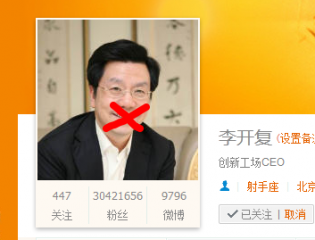 Entrepreneur and former Google country manager for China, Kaifu Lee, is often outspoken on his Chinese social media presences – and not just about technology issues. Now Lee says that he has been banned from two such services, Sina Weibo and Tencent Weibo, for a period of three days. Lee has 30.4 million followers on Sina Weibo alone.
It's not clear what caused Kaifu Lee's ban from two totally separate social sites, but it's obvious that this was mandated by authorities. Being unable to post to either of the Twitter-esque Weibo services, Lee took to actual Twitter to say, in Chinese, "I've been blocked from Sina and Tencent Weibo for three days; you can find me here [on Twitter]."
我在新浪腾讯都被禁言三天,大家可以来这里找我。

— Kai-Fu Lee (@kaifulee) 2013年2月17日
This isn't Lee's first brush with censorious authorities due to his Weibo missives. Just last month, Lee hinted cryptically – a necessary safeguard on the Chinese web – that he had been questioned by police over his support for one outspoken Chinese newspaper in a heated battle over what tiny remnants of editorial freedom of speech remain in the country.
Even more recently, Lee was vocal in his objection to the temporary web blocking of Github, the social programming site used by many Chinese developers.
If you're wondering how authorities can order such bans be put in place, then the answer is they just can. Last year we chronicled 10 of the most extraordinary cases of Weibo censorship – and there'll surely be enough cases for a similar list at the end of this year.
Lee should be back on both Sina Weibo and Tencent Weibo by the 20th.