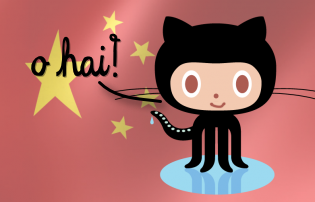 It was just two days ago that my colleague reported on how the social coding site Github had become blocked in China. But today we notice that it is accessible again within the country on two different ISPs, and for many others across China.
I noticed this thanks to Kaifu Lee, the former Google China country manager – now the founder of Innovation Works – who says he has reports of Github being accessible once more in Beijing, Shanghai, Guangzhou, and lots of other places. This post of Lee's on his Sina Weibo page comes a full day after another angrier missive in which he slammed the apparent blocking of Github by authorities as "unjustifiable", saying (in our translation):
GitHub has three million members and China ranks fourth in terms of member base. Github is the place for developers to learn, share, and connect with others developers in the world. It doesn't have any sensitive content so blocking Github is unjustifiable. Blocking Github will only hurt domestic programmers and cause them to be less competitive and competent.
But with the coder's favorite site being accessible now, Lee instead encourages his 26.6 million followers to flush their (probably Linux) laptop's DNS cache so as to eradicate the previous DNS blockage of Github.
It's not clear why Github got the ban-hammer for a couple of days. [UPDATED: The GreatFire blog has some interesting and plausible theories]. It might have been accidental, or some 'sensitive' keywords could have attracted the attention of authorities among all the repositories on the site. The site is recently capable of publishing web pages via its Github Pages feature, as my colleage Rick pointed out, but its's unlikely that that low profile feature would have attracted the attention of censors. Though all other such services – WordPress, Blogspot, Posterous – have long since been blocked in China.
Anyway, it's back. So get your commits in shape and get back to work, code monkeys.