As the Southern Weekend incident continues to boil in the Chinese media, weibo celebrities like Innovation Works founder Kaifu Lee (25 million followers) and real estate magnate Ren Zhiqiang (13 million followers) have been expressing their support for the weekly newspaper and for greater press freedom in China. Many of them had messages deleted from Sina Weibo by Sina's censors, but rumors have things quite a bit worse than that, as word is spreading that Lee and many other popular weibo users have all been "invited to tea" — internet slang for being temporarily detained by China's state security officers for questioning or criticism.
It's difficult to confirm this, and most of the weibo celebrities I've seen mentioned haven't said anything about their experiences on weibo. I was beginning to think it was completely made up, and then I came across this post Kaifu Lee made last night.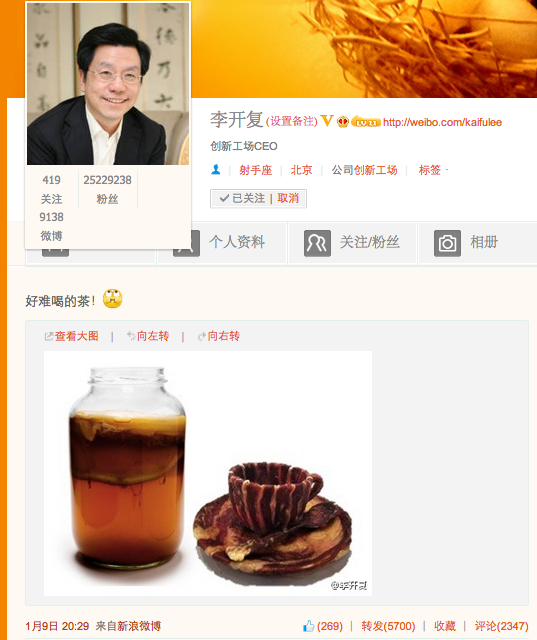 It reads, quite simply: "disgusting tea" and is followed by a vomiting animated emoticon. A coincidence? Possible, but unlikely. In the censored world of China's web, oblique hints like this are often favored over direct statements, especially when the poster has been instructed by police not to say anything. If the comments are any indication, almost all of Lee's followers are assuming that this post is a confirmation of Lee's interrogation by state security officers, not actually a commentary on tea flavors. Ren Zhiqiang even left Lee a comment asking if it was his first time, which seems unlikely to be an actual reference to drinking tea.
If Chinese state security really is detaining weibo celebrities over their support of Southern Weekend, they are playing a dangerous game. Often, "tea sessions" are used as an intimidation tactic to scare people into shutting their mouths, but they can also serve as a kind of provocation, and provoking someone like Lee, who is capable of putting any message he likes in front of millions of Chinese weibo users instantly, could certainly backfire. Whether or not it will remains to be seen.
In the meantime, for all the weibo users out there getting tea invitations this week, we hope that at the very least your tea goes down smoothly.