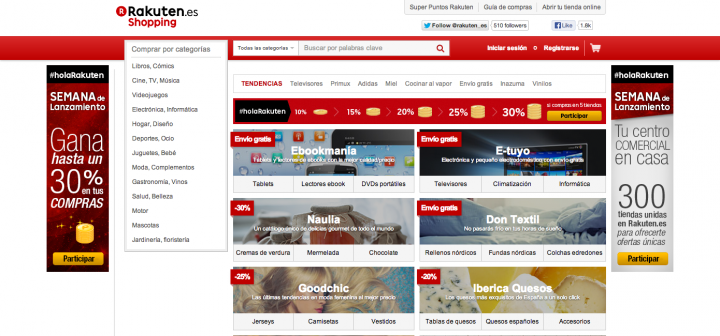 Rakuten, the leading e-commerce platform in Japan, announced today that it has launched a new online marketplace in Spain.
Users that log on to the new rakuten.es will be greeted with a Spanish-language marketplace selling all the usual goods one expects to see on an average e-commerce website – shoes, clothes, electronics – along with Spanish cheeses.
According to Rakuten, the company chose to branch out into Spain due to its high number of SMEs that don't typically use the internet for commercial transactions. Rakuten Spain CEO Marc Vicente said in a statement:
"The Spanish business landscape is dominated by small and medium enterprises. Therefore, the e-commerce business needs innovations and solutions that fit into this structure. Since there has not been a suitable platform available until now, 80 percent of local merchants have not previously used the Internet for selling their products."
Rakuten Spain hopes to lure customers by offering special store-wide discounts and loyalty programs, while enticing merchants to set up shop by charging a registration fee of 25 Euros followed by a monthly fee of 29.9 Euros, and taking a maximum commission of 12.5 percent.
Rakuten has been extremely successful in Japan, but it's international ventures haven't exactly been smooth been sailing. In April 2012 it closed Lekutian, a failed joint venture with Chinese search giant Baidu. In September of this year, the firm finally achieved sole ownership of Rakuten Indonesia, which was once an unstable joint venture with Indo e-commerce group MNC.
Spain, meanwhile, appears to be a popular destination for Asian tech firms looking to break into new markets. Most notably, Japanese chat app Line launched an aggressive marketing campaign in the region hawking Barcelona and Real Madrid-themed stickers.
(See also: 11 options for Japanese online shopping that aren't Rakuten or Yahoo)
(Source: Rakuten Global via TNW)