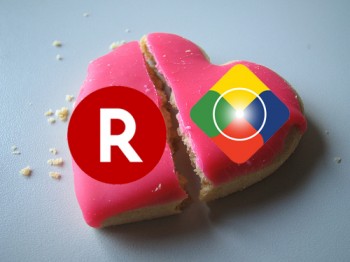 (Update: Reino tells us that the reason behind this break-up is that the partnership between the two parties was not working that well – not in terms of operations, but in terms of having the "big picture.")
It has been an up-and-down drama between Japan-based e-commerce giant Rakuten with Indonesia's media conglomerate MNC regarding their joint venture project Rakuten Belanja Online (RBO) in Indonesia. Back in March the two companies reportedly split up, only to reiterate their commitment to the Indonesian market and squash the split-up rumors two months later. Tech in Asia just received word from Reino Barack, the CEO of MNC's TV shoppping and e-commerce company MNC Shop, that the joint venture has been closed as of yesterday.
So what is the reason behind the split up? We can think up of a few, but one of the newest reasons might be the newly-launched MNC Shop online. The e-commerce platform, which is a joint venture project between MNC and South Korea's TV home shopping company GS Home Shopping, has a similar business model to RBO's B2B2C model. That would make MNC Shop a direct competitor to RBO in the e-commerce space.
Though the e-commerce side looks similar, MNC Shop uses a very different method to promote its products. Users can view MNC Shop's products via online and offline video channels including traditional TV shopping channels.
When asked if MNC Shop would have been a competitor to RBO given the similarities in e-commerce business models, Reino said that MNC Shop has a different business model compared to RBO because of its TV shopping focus. He added that the e-commerce side of MNC Shop is "a complementary or secondary business" because the company's main focus is its TV shopping business. (Update: Reino says that MNC Shop is doing the B2B2C business model partially, with items promoted via TV adapting to the current TV shopping business model.)
Lastly, Reino shared that MNC Shop is looking to improve its regional distribution center so that the company can offer credit card installment and next day delivery to customers this year. The team hopes that it can expand its services to 20 cities in Indonesia this year.
We've emailed Rakuten for comment on the closing. We will update this article if we hear back.
(Editing by Charlie Custer and Willis Wee)