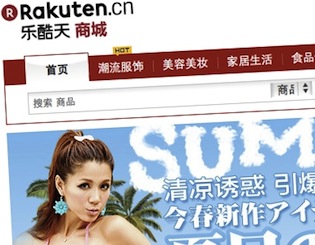 Rakuten (JSD:4755) announced on its website today (pdf release) that the company would be closing the 'Lekutian' e-commerce venture that it had in partnership with Baidu (NASDAQ:BIDU) in China. Currently visiting the site at its domain Rakuten.cn, one is greeted with a message stating:
We at Lekutian hereby reluctantly inform you of the following important change. After the careful consideration of the management team, Lekutian will stop service as of April 27.
While expressing apologies and thanks to customers who have supported it so far, the company also notes that Lekutian points not redeemed/converted before the 27th will no longer be valid as of that date. So customers only have six days to use their points, because after midnight on the 26th, they're worthless.
Rakuten also invites Chinese customers to visit its Global Market, which is, in fact, available in Chinese. As for the soon-to-be-closed Lekutian, it provides the following explanation of the closure in its announcement on its investor relations page:
[I]n the face of intensified competition in the Chinese e-commerce industry, Lekutian did not perform in line with our expectations. Following careful deliberation, both Rakuten and Baidu determined that closing Lekutian was in the best interest of all stakeholders.
The company adds that this will not have a sigificant impact on its finances, as the investment into the venture was less that it had originally planned. The Chinese press was had been reporting trouble with the Rakuten-Baidu joint venture earlier in the month. And as we see today, the Lekutian venture just didn't work out.
Despite this setback, Rakuten has been expanding from its home base of Japan with a number or partnerships and acquisitions around the world. Rakuten will "continue to evaluate" opportunities in China, and it will be interesting to see how its next venture into China's fiercely competitive e-commerce space goes, if it goes at all.