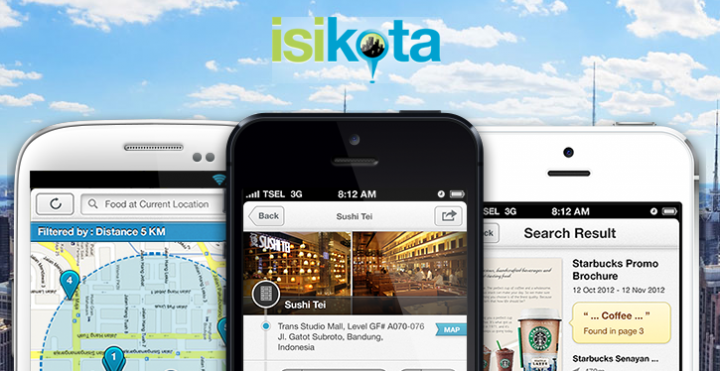 A couple of days back we published a list of some great Android apps made in Indonesia. Since that day we've been getting loads of feedback and numerous reccomendations for other great, locally-produced apps. One of those is Isikota.
As we move towards a more digitized world, there are still a lot of markets that have yet to adapt and are still stuck in their old ways. Something slow to make its way to the digital world over the past couple of years has been catalogs. In the past, people resorted to catalogs to stay up to date with all that was going on around them. Catalogs weren't just for shopping, but for keeping up to date on concerts, restaurants and even movies. We used to rely on catalogs and newspapers to get us all the information we needed. However, with the advent of social media sites like Facebook and Twitter, fewer and fewer catalogs are being picked up. People instead can be more selective in what they want to read about, gradually diminishing the appeal of physical catalogs. But Isikota aims to challenge the trend.
Isikota is a location-based platform that aggregates local promotions and catalogs for a variety of different sectors, such as entertainment, shopping, and news. The app pulls content from both online and offline businesses and presents it to users all in one place. Users are given the option to browse through a digital version of a circular as they are accustomed to, enter search queries, or filter via brand, distance, location, and a variety of other factors. Isikota also allows users to set alerts on deals and events that interest them.
The mobile app has been around for a while, but now Isikota has launched a web platform, bringing their popular mobile catalog service to more users. The platform currently has around 25,000 registered users, 100,000 points of interest all over Indonesia, and over 5,000 pages of active shopping catalogs.
There are a number of similar apps , namely Urbanesia, Qraved and Zomato in the directory game. However, Qraved and Zomato focus solely on food. Adadiskon's deals aggregator works in a similar way to Isikota's, but none of the mentioned competitors offers both a deals aggregator as well as directory listings.
(See: Where to go? Find the best spots in Jakarta with JKTGO)
Alongside their new web platform, Isikota is launching a new service for businesses aptly titled Isikota for Business. This enterprise version is essentially a cloud-based management tool for catalogs, allowing retailers to upload their catalogs to Isikota and use its dashboard to instantly publish catalogs across all three platforms. Retailers can embed the catalog directly on their own website, eliminating the need for manually creating a catalog from scratch. Daniel Gozali, the co-founder of Isikota, tells us they'd like to think of Isikota as a YouTube for catalogs. He believes retailers don't need to develop apps of their own just to show people their location and products/deals, all of which can be done from within an aggregator such as Isikota.
Isikota is available on Google Play, the Apple app store and on the web.