We get the feeling that the hugely popular messaging app WeChat will eventually move into social gaming. (We asked earlier this afternoon but a Tencent rep declined to comment). Until then, the closest we have is this fun experiment in HTML5 gaming from a startup game studio called DuoPao. Basically, DuoPao has opened up a regular brand account on WeChat and is using it to let followers access and play a wide variety of HTML5 games – right inside WeChat.
We tested out a couple of the games and the results are, inevitably, quite basic. The idea is mainly being held back by the built-in WeChat web browser, which is more of an after-thought than a modern and fully-fledged browser. It prevents the games going full-screen, and some of the games will only work if you proceed to open them up in another browser like Safari or Chrome. But then none of this is being supported officially by Tencent, makers of the 300-million-user-strong app. Here's how it works: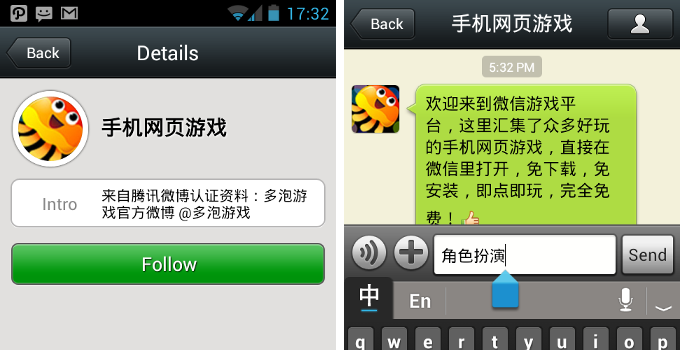 First I added DuoPao on WeChat, and then they gave me a list of games to play. I replied with the name of a game…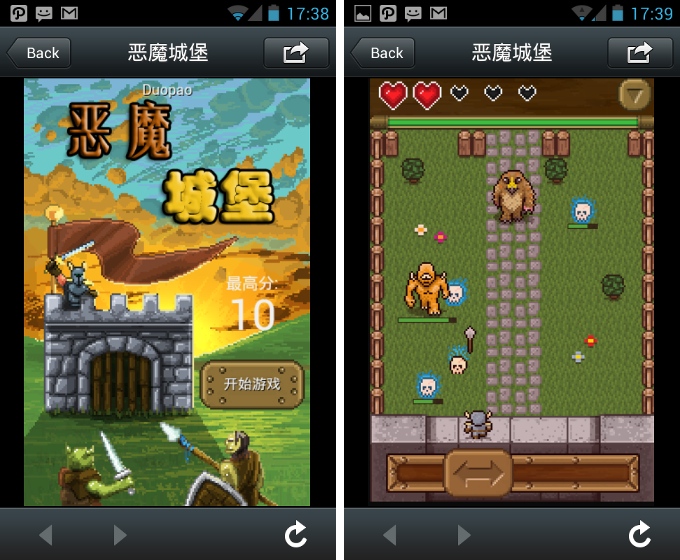 …Then the game starts inside WeChat's rather basic web browser. No chance of going full-screen. Er… That's it.
According to a post on Zhihu – a sort of Chinese Quora – by one of the DuoPao team, the studio so far has "received more than 5,000 users at zero cost" via this WeChat channel. About 1,500 are daily active users inside WeChat. Not bad for a free sideline to their usual distribution methods.
Despite all the issues with games in that basic browser, the startup team will persist with this – and with HTML5 games in general. As with many other shifts towards modern browser-based games – as we saw last year with GREE – a big part of the attraction is avoiding the revenue sharing program with Apple, Google, and Amazon in their app stores.
Social gaming has been huge for rival chat apps Line and KakaoTalk – though in native apps, not in a web browser. We'll have to wait a while to see how Tencent, which is already China's top grossing gaming company, can reshape its gaming expertise to fit into WeChat.