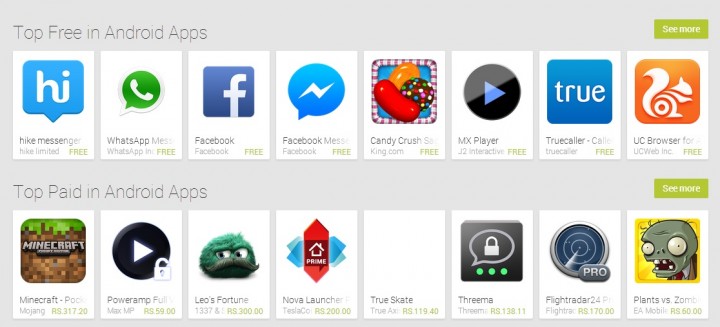 Free messaging app Hike, the Indian answer to WhatsApp, Line, and WeChat, has reached the number one spot on the Google Play Store in India, toppling WhatsApp and Facebook. It had also grabbed the top spot on the iOS App Store last week, and is now number three on Windows Marketplace as well. "Again, ahead of WhatsApp," points out Kavin Bharti Mittal, who directs strategy at Hike.
Bharti Softbank, a joint venture of Bharti Enterprises and Japan's Softbank Corporation, launched the app in December 2012. A few weeks ago, Hike crossed the 20 million registered user mark. "We're now adding over 300,000 users per day, becoming the fastest growing mobile app in India," Mittal tells Tech in Asia over email. Hike had launched a commercial on television recently, which may have contributed to this surge in users.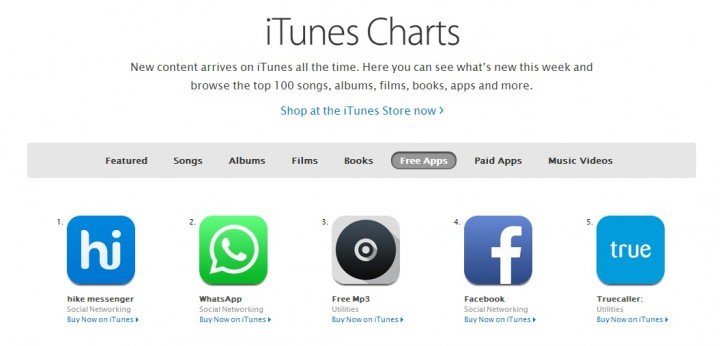 Tech companies in Asia rely on divergent strategies to reach out to consumers. Chinese smartphone maker Xiaomi, which launched a range of budget phones in India today, has taken a digital only route to both distribution and marketing to keep costs down. Messaging apps WhatsApp and Viber too have reached global critical mass with little advertising in traditional media.
China's WeChat, however, has been advertising heavily on Indian TV with some very rustic ads. Now Hike too seems to think that the way into the pockets of the masses is through TV, because large swathes of people are glued more to TV soaps and news than social media and the internet in India.
In fact, Hike has been trying to differentiate itself from competitors by improving the product with features designed for Indians, who make up 90 percent of the app's users. Especially important to Hike is embracing people on 2G networks and low-end smartphones, which again encapsulate the majority of Hike users, says Mittal in a statement. "The uptake of our new features and innovations prove that the market wants more than what has trickled down from the West," he adds.
For example, Hike introduced a 'hidden mode' that protects private chats with a password. "In a country like India, where teenagers stay with their parents and families, where their need for privacy is constantly challenged, we believe this feature could be a boon," Mittal explains. Hike also has push-to-talk voice messaging for those who really don't want to type.
India has a large number of feature phone users, and though there is an influx of smartphones now, internet coverage is still poor in many parts of the country. Keeping that in mind, Hike has an offline option. This converts messages into SMS for those who are not connected to the internet, either temporarily or because they use feature phones that are not internet-enabled. The SMS reply gets converted back into a Hike message, and so the chat can carry on seamlessly even if one party is offline.
Hike still has a way to go before it can catch up with WhatsApp, which remains India's most used messaging app with over 50 million monthly active users. – two-and-a-half times the size of Hike's user base.
See: Homegrown Indian messenger Hike launches 'hidden' chats to take on WhatsApp